Goal 17: Partnerships for the goals
Revitalize the global partnership for sustainable development
"We are determined to mobilize the means required to implement this Agenda through a revitalized Global Partnership for Sustainable Development, based on a spirit of strengthened global solidarity, focused in particular on the needs of the poorest and most vulnerable and with the participation of all countries, all stakeholders and all people." – Preamble to the 2030 Agenda for Sustainable Development
The OSCE partners with the UN and other international organizations, regional and local organizations and agencies, the private sector and academia in order to forge effective responses to security challenges in its region.
In the environmental field, its partnership with the UN Development Programme, the UN Environment Programme, the UN Economic Commission for Europe and the Regional Environmental Centre for Central and Eastern Europe within the framework of the Environment and Security Initiative (ENVSEC) enables co-ordinated environmental action since 2003.
The OSCE Project Co-ordinator supports Ukraine's reforms and helps the country meet crisis-related challenges. Its projects actively contribute to major transformations, critical for the stable and democratic future of the country. The Co-ordinator's approach is multi-dimensional and covers a wide array of activities, such as constitutional reform, legal and criminal justice reform; human rights and legal education; dialogue as a tool to deal with crises and implement reforms; psychological and social rehabilitation of crisis-affected people; the fight against cybercrime and human trafficking; mine action and democratic control of the security sector; environmental protection; border security; media freedom; elections; good governance; and gender equality.
Read More...
Page - Homepage - OSCE Project Co-ordinator in Ukraine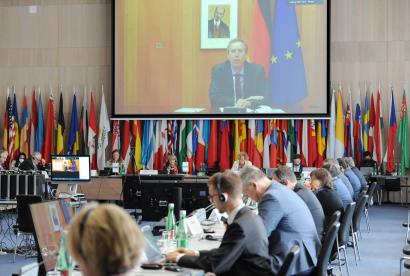 VIENNA, 5 July 2021 – Thirty years on from the 1990 Bonn Document, the OSCE hosted a conference reviewing how to continue contributing to European peace, security and prosperity through a market-based economy and environmental protection...
Read More...
Press Release - OSCE Secretariat - Economic activities, Economic and environmental dimension, Environmental activities, Economic and environmental dimension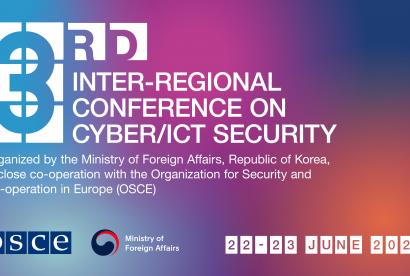 How international co-operation can lead to a more stable, predictable and safe cyberspace, was the focus of the 3rd Inter-Regional Conference on Cyber/ICT Security. The Republic of Korea and the OSCE organized the event, held in Vienna in a virtual setting on 22 and 23 June, with the participation of 280 governmental and non-state representatives...
Read More...
News - Asian Partners for Co-operation - Cyber/ICT Security, Cross-dimensional, Reform and co-operation in the security sector, Politico-military dimension
Advancing beneficial ownership reform in the Western Balkans, transparency, and common challenges were the focus of an online workshop, on 14 June 2021, organized by the OSCE, jointly with the Open Government Partnership (OGP), and German Corporation for International Cooperation (GIZ)...
Read More...
News - Office of the Co-ordinator of OSCE Economic and Environmental Activities - Economic activities, Economic and environmental dimension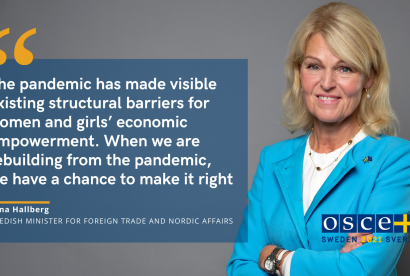 VIENNA/STOCKHOLM, 10 June 2021 – Women have disproportionately suffered socio-economic consequences during the COVID-19 pandemic. At today's 2nd Preparatory meeting of the OSCE Economic and Environmental Forum (EEF) participants stressed the need for policies that will ensure a more level playing field for women, now that a return to 'normalcy' seems within reach. Promoting equal opportunities for women is a key factor for securing prosperity, stability and security...
Read More...
Press Release - OSCE Chairmanship - Economic activities, Economic and environmental dimension, Environmental activities, Economic and environmental dimension, Gender equality, Cross-dimensional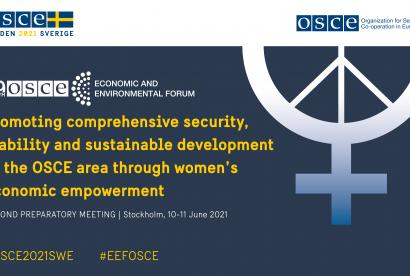 The Second Preparatory Meeting of the 29th OSCE Economic and Environmental Forum dedicated to "Promoting comprehensive security, stability and sustainable development in the OSCE area through women's economic empowerment" will take place in Stockholm on 10-11 June 2021 and   will focus on the
Read More...
Event - Conference - OSCE Chairmanship - Economic activities, Economic and environmental dimension, Environmental activities, Economic and environmental dimension
Tue, 2021-06-08 09:00 Blog Dr. Regina Polak, Personal Representative of the OSCE Chairperson-in-Office on Combating Racism, Xenophobia and Discrimination /migration /node/445216 The European Values Study 2017/2018 is a large-scale, cross-national, repeated cross-sectional survey research programme
Read More...
Blog Article / Security Community Article - Blog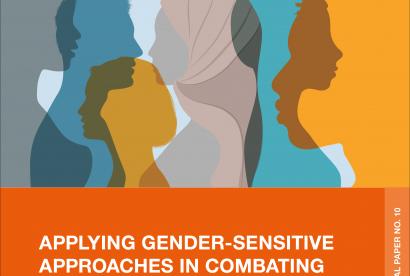 This Occasional Paper is based on findings from a multi-method research project, including surveys, expert interviews, and expert group meetings carried out with participants from more than half of the OSCE's participating States. By bringing together the voices of survivors, anti-trafficking experts, service providers, and law enforcement, this paper offers a comprehensive account of gender aspects in trafficking in human beings. It also provides a basis for discussion about possible ways to apply gender-sensitive approaches. The report, therefore, explores a range of gender aspects that are often not addressed in existing prevention, protection, and prosecution strategies.
Read More...
Document - Study / report - Office of the Special Representative and Co-ordinator for Combatting Trafficking in Human Beings - Combating human trafficking, Cross-dimensional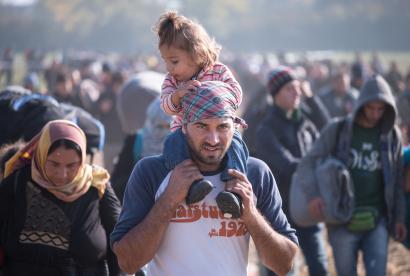 OSCE and UNHCR are joining forces this week to debunk myths about migration and refugee flows, explore solutions and ultimately call for action to combat intolerance of and discrimination against migrants and refugees...
Read More...
Story - Article - OSCE Office for Democratic Institutions and Human Rights - Media freedom and development, Human dimension, Migration, Cross-dimensional
The objective of the project, implemented by the Transnational Threats Department's Border Security and Management Unit (TNTD/BSMU), is to provide technical support to the OSCE participating States (pS) and Partners for Co-operation (PfC) in improving their electronic Passport (e-Passport) security by joining the International Civil Aviation Organization's Public Key Directory (ICAO PKD).
Read More...
Project Page - OSCE Project - Transnational Threats Department - Border management, Politico-military dimension