Goal 4: Quality education
Ensure inclusive and equitable quality education and promote lifelong learning opportunities for all
Obtaining a quality education is the foundation to creating sustainable development. Education can play a key role in preventing conflict by fostering a sense of opportunity and belonging, accommodating diversity and languages, and allowing for multiple views on history.
The OSCE High Commissioner on National Minorities regularly reminds both government and minority representatives of the right to education in and of minority languages on the one hand and the importance of mastering the state language on the other.
The OSCE Office for Democratic Institutions and Human Rights and the Organization's field operations promote a culture of peace and non-violence through programmes to combat hate crime and promote tolerance in communities and schools.
The OSCE Project Co-ordinator supports Ukraine's reforms and helps the country meet crisis-related challenges. Its projects actively contribute to major transformations, critical for the stable and democratic future of the country. The Co-ordinator's approach is multi-dimensional and covers a wide array of activities, such as constitutional reform, legal and criminal justice reform; human rights and legal education; dialogue as a tool to deal with crises and implement reforms; psychological and social rehabilitation of crisis-affected people; the fight against cybercrime and human trafficking; mine action and democratic control of the security sector; environmental protection; border security; media freedom; elections; good governance; and gender equality.
Read More...
Page - Homepage - OSCE Project Co-ordinator in Ukraine
Respect for human rights is a crucial component of public trust in state institutions. The Co-ordinator works with the security sector and law enforcement agencies to help them implement human rights-based approaches, assists parliamentarians draft laws that safeguard individual freedoms, and supports law enforcement reform both by participating in developing and implementing its strategy.
Read More...
Page - Activities - OSCE Project Co-ordinator in Ukraine - Human rights, Human dimension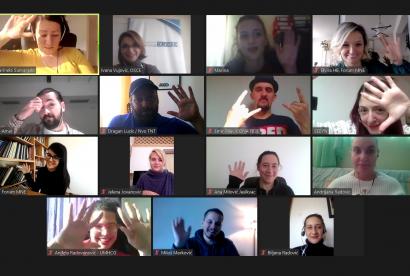 To strengthen capacities of civil society organization (CSOs) in using digital platforms, the OSCE Mission to Montenegro organized two online training courses on 16 and 17 November and from 25 to 27 November 2020.
Read More...
News - OSCE Mission to Montenegro - Youth, Cross-dimensional
For several years, the International Legal Forum in Kharkiv has been bringing together prominent international and national experts in the legal sphere to engage in an open discussion and look for solutions to current issues in the field. This year, given the development of new standards in legal
Read More...
Event - Conference - OSCE Project Co-ordinator in Ukraine - Human rights, Human dimension, Youth, Cross-dimensional, Rule of law, Human dimension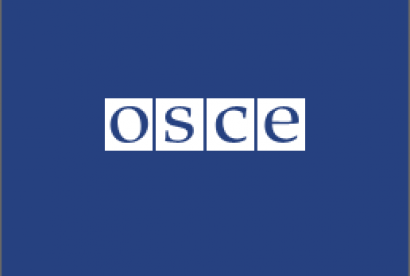 An Op-Ed by Ambassador Kathleen Kavalec, Head of the OSCE Mission to BiH, on the 2020-21 school year and the challenges it comes with, both for children and their parents.
Read More...
Document - Article - OSCE Mission to Bosnia and Herzegovina - Education, Cross-dimensional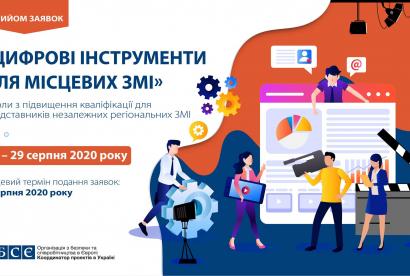 Professionals from local print media are invited to apply for the "Digital Tools for Local Media" Module of the the tree-module's school for independent regional media. All modules of the school will be useful for developing practical skills in effective media management in communities,
Read More...
Event - Training - OSCE Project Co-ordinator in Ukraine - Media freedom and development, Human dimension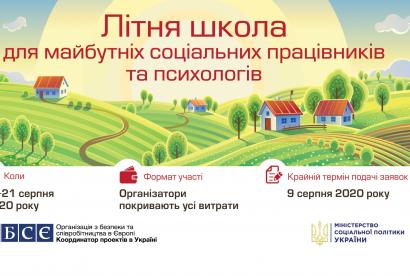 The event is organized within the framework of the project of the OSCE Project Co-ordinator in Ukraine "Enhancing the Ministry of Social Policy's Capacity to Address Domestic Violence in Ukraine". The Summer School will be organized taking into account all the mandatory, relevant and prudent
Read More...
Event - Training - OSCE Project Co-ordinator in Ukraine - Gender equality, Cross-dimensional, Youth, Cross-dimensional
A collection of methodological materials developed for trainers who work to strengthen the ability of stakeholders to use dialogue in preparing and managing difficult multilateral discussions
Read More...
Item List - General - OSCE Project Co-ordinator in Ukraine - Conflict prevention and resolution, Politico-military dimension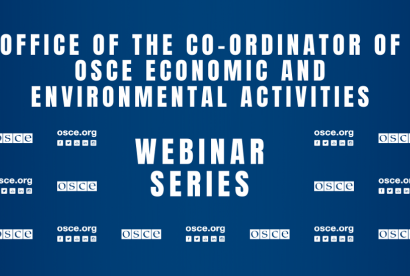 Beyond its devastating implications in the domain of public health, the COVID-19 pandemic poses an unprecedented threat to  economy, security and stability. The crisis has strongly challenged the role of governments, multilateral organizations, civil society and the private sector, as well as
Read More...
Item List - General - Office of the Co-ordinator of OSCE Economic and Environmental Activities
How, When, Where Does Dialogue Work? Practical Guide Promoting a culture of dialogue Enhancing dialogue culture within Ukraine's communities Bridging differences and managing discussions on conflict-prone issues requires high level of relevant skills and knowledge. This page contains useful
Read More...
Item List - General - OSCE Project Co-ordinator in Ukraine - Conflict prevention and resolution, Politico-military dimension, Good governance, Economic and environmental dimension