News and press releases from the OSCE's global activities.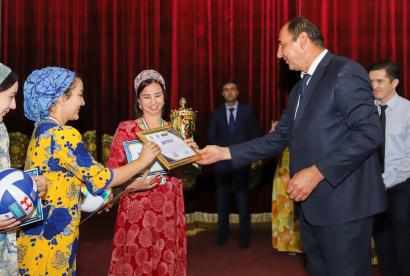 Publishing date:
29 June 2022
To mark the International Day Against Drug Abuse and Illicit Trafficking, the OSCE Programme Office in Dushanbe supported Tajikistan's Drug Control Agency (Agency) in organizing awareness-raising campaign from 17 to 25 June in all regions of Tajikistan.
Publishing date:
28 June 2022
Election experts from the OSCE Office for Democratic Institutions and Human Rights (ODIHR) presented the final report and recommendations of the observation mission to the 17 and 31 October 2021 local elections in North Macedonia during a visit to Skopje from 20 to 23 June. The ODIHR experts met
Publishing date:
28 June 2022
Content type:
Press release
VIENNA, 28 June 2022 – Integrating women and youth to be part of solutions to challenges in times of crisis was at the centre of the OSCE Mediterranean Partners for Co-operation Group meeting that took place in Vienna today.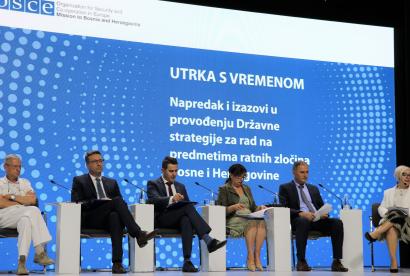 Publishing date:
28 June 2022
The OSCE Mission to Bosnia and Herzegovina (BiH) today presented, in Sarajevo, the report A Race Against Time: Successes and Challenges in the Implementation of the National War Crimes Processing Strategy of BiH.
Publishing date:
27 June 2022
An OSCE-organized online seminar on international standards and national experiences in preventing violence against journalists and promoting their rights was held from 27 to 28 June 2022. Two international experts facilitated the meeting for representatives of structures involved in the
Publishing date:
24 June 2022
The November 2021 presidential and early parliamentary elections in Bulgaria were administered efficiently, but took place in an atmosphere of disillusionment towards the political establishment and voter fatigue from two previous parliamentary elections held within the same year. The roll-out of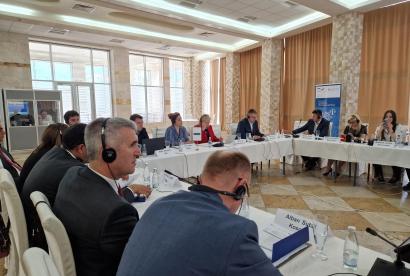 Publishing date:
24 June 2022
The fourth Annual General Meeting of the Balkan Asset Management Interagency Network (BAMIN) was held with the support of the OSCE between 22 and 24 June 2022 in Budva, Montenegro. The Annual General Meeting brought together 50 participants from 21 jurisdictions, as well as a representative from the European Union Agency for Law Enforcement Cooperation (Europol), to discuss the responsibilities, tasks and powers that constitute an effective asset management agency.