News and press releases from the OSCE's global activities.
Publishing date:
1 April 2022
Sarajevo Canton Prosecutor's Office regulated the manner of documenting of criminal offences targeting persons who perform duties of importance to the public in the area of information dissemination, with the support of the OSCE Mission to Bosnia and Herzegovina. A prosecutor was selected to serve as a point of contact and coordinate with associations of journalists and law enforcement agencies involved in investigating and prosecuting these types of criminal offences. The Office of the Chief Prosecutor will perform oversight to ensure that these cases are handled efficiently and as a matter of priority.
Publishing date:
31 March 2022
Content type:
Press release
WARSAW/VIENNA, 31 March 2022- OSCE Chairman-in-Office and Polish Foreign Minister Zbigniew Rau and Secretary General Helga Maria Schmid expressed their sincere regret that no consensus was reached on the extension of the mandate of OSCE Special Monitoring Mission to Ukraine, the Organization's largest field presence and a key component of its response to the crisis in and around Ukraine.
Publishing date:
31 March 2022
From the very beginning of the European Youth Card programme, the OSCE Mission to Montenegro has strongly supported the development of this initiative in Montenegro, was the conclusion of the meeting of Siv-Katrine Leirtroe, Deputy Head of the Mission and Jugoslav Radović, Director of the Centre for Youth Education and Programme Director of European Youth Card Association (EYCA) on 31 March 2022 in Podgorica.
Publishing date:
31 March 2022
A three-day train-the-trainer course on countering terrorist financing (CFT) through investigations for North Macedonia concluded on 31 March 2022 in Vienna. The course was organized by the OSCE's Transnational Threats Department, jointly with the UN Office on Drugs and Crime (UNODC), and with the support of the OSCE Mission to Skopje. It aimed at strengthening the capacity of officials from North Macedonia to co-operate in conducting efficient CFT investigations.
Publishing date:
30 March 2022
On 30 March 2022, 11 practitioners from Central Asia and South-Eastern Europe took part in an interactive, online OSCE workshop on inclusive youth engagement in preventing and countering violent extremism and radicalization that lead to terrorism (P/CVERLT).
Publishing date:
30 March 2022
Content type:
Press release
THE HAGUE, 30 March 2022 – OSCE High Commissioner on National Minorities Kairat Abdrakhmanov is deeply concerned about the appeals he has received from Ukraine, including from representatives of national minorities, about the humanitarian situation in the country...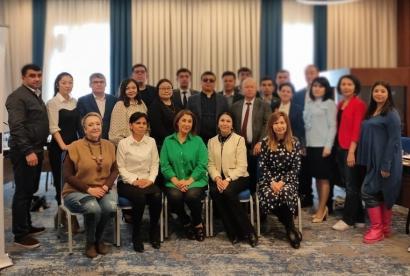 Publishing date:
30 March 2022
The Office of the Co-ordinator of OSCE Economic and Environmental Activities and the OSCE Transnational Threats Department, co-organized together with the OSCE Academy in Bishkek, workshops on 9, 29 and 30 March 2022 in Tashkent on best practices and challenges in the field of youth crime and drug use prevention. The workshops also addressed the need to strengthen educational programmes to foster youth's understanding of these threats.