News and press releases from the OSCE's global activities.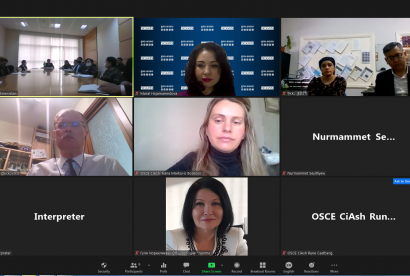 Publishing date:
29 March 2022
On 29 March 2022, the OSCE Centre in Ashgabat organized an online seminar on the tasks and functions of non-profit organizations (NPOs) and their supervising agencies in the implementation of the 2021-2022 national Risk Management Action Plan (RMAP) in preparation for the Eurasian Group's (EAG) anti-money laundering and countering financing of terrorism (AML/CFT) mutual evaluation process.
Publishing date:
28 March 2022
Content type:
Press release
VIENNA/WARSAW, 28 March 2022 – To achieve progress on implementing the commitments made by all OSCE countries to resolve disputes peacefully and ensure stability in the region, urgent consultation is needed to increase co-operation to protect civilians and investigate and prosecute violations of international humanitarian and human rights law, OSCE leaders said at the opening of a two-day conference today.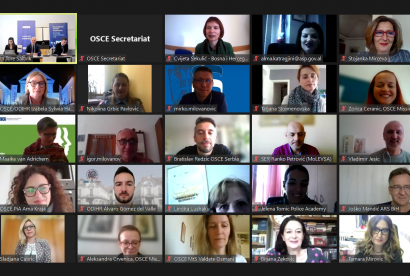 Publishing date:
28 March 2022
On 24 March 2022, the OSCE organized an online regional workshop on developing a training curriculum for law enforcement and judiciary on gender-based violence. The curriculum will be delivered during a regional train-the-trainers course, as part of the project Enhancing Criminal Justice Capacities for Combating Gender-based Violence in South-Eastern Europe (2021-2024). Tailored workshops to further adapt the curriculum to the national contexts will be organized for each project beneficiary country: Albania, Bosnia and Herzegovina, Montenegro, North Macedonia, and Serbia.
Publishing date:
28 March 2022
An OSCE-organized regional workshop on the Lapis Lazuli transit and transport corridor started in Ashgabat on 28 March 2022.
Publishing date:
26 March 2022
Content type:
Press release
CHISINAU, 26 March 2022 — The OSCE Chairman-in-Office and Poland's Minister for Foreign Affairs Zbigniew Rau concluded his first official visit as OSCE Chairman to Moldova today.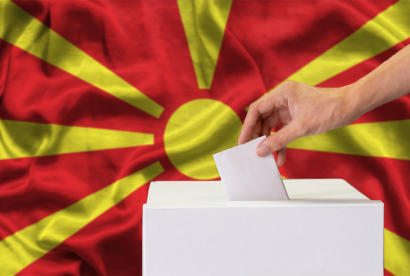 Publishing date:
25 March 2022
The October 2021 local elections in North Macedoniawere competitive and fundamental freedoms were widely respected, but shortcomings in the legal framework underscore the need for a comprehensive reform. The election days proceeded smoothly and procedures were generally assessed positively by ODIHR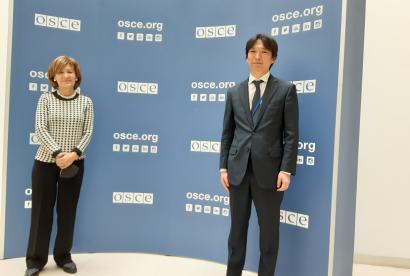 Publishing date:
25 March 2022
On 24 March 2022, the OSCE Representative on Freedom of the Media, Teresa Ribeiro, met with Permanent Representative of Mongolia to the OSCE, Ambassador Mijiddorj Tsengeg.