News and press releases from the OSCE's global activities.
Publishing date:
9 July 2019
Content type:
Weekly report
Kamensk-Shakhtinskiy, Russian Federation. The Observer Mission (OM) continues to operate 24/7 at both Border Crossing Points (BCPs). The overall number of border crossings by persons increased at both BCPs compared to the previous week.
Publishing date:
8 July 2019
Content type:
Daily report
Compared with the previous reporting period, between the evenings of 5 and 6 July, the SMM recorded more ceasefire violations in Donetsk region and fewer in Luhansk region. Between the evenings of 6 and 7 July, the SMM recorded more ceasefire violations in both Donetsk and Luhansk regions compared with the previous 24 hours. A woman was injured by small-arms fire at a checkpoint near Horlivka and a woman suffered a concussion from shelling in Nova Marivka. The SMM saw fresh damage from small-arms fire to apartments in Zolote-5/Mykhailivka and to houses and infrastructure in both Dokuchaievsk and Pervomaisk. It also saw damage from shelling to houses in Yasne, and a burnt church and damage from shelling to a house in Pikuzy. Inside the Stanytsia Luhanska disengagement area, an SMM mini-UAV spotted members of the State Emergency Service conducting demining activities. The Mission recorded ceasefire violations inside the Zolote disengagement area. It saw weapons in violation of withdrawal lines in non-government-controlled areas of Luhansk region. The Mission facilitated and monitored adherence to the ceasefire to facilitate repairs and the operations of critical civilian infrastructure. Restrictions of the SMM's access continued, including in non-government-controlled Shevchenko, Hryhorivka, Yuzhna Lomuvatka, Oleksandrivske, and Novoazovsk.
Publishing date:
8 July 2019
Content type:
Press release
LUXEMBOURG, 8 July 2019 – The OSCE Parliamentary Assembly re-elected George Tsereteli (Georgia) as President today along with three Vice-Presidents and a new Treasurer. Victor Paul Dobre (Romania) and Azay Guliyev (Azerbaijan) were both re-elected as Vice-Presidents, and Nilza de Sena (Portugal), previously Chair of the economic and environmental committee, was newly elected Vice-President. The Assembly elected Peter Juel Jensen, the Head of the OSCE PA's Danish Delegation, as Treasurer...
Publishing date:
8 July 2019
Content type:
Press release
LUXEMBOURG, 8 July 2019 – OSCE parliamentarians today voted overwhelmingly to adopt the Luxembourg Declaration, containing recommendations to national governments, parliaments and the international community in the fields of political affairs, security, economics, environment, human rights and humanitarian questions. The document endorses a multilateral approach to addressing common challenges in arms control, conflict resolution, the environment and human rights...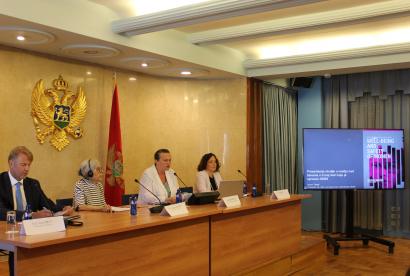 Publishing date:
8 July 2019
Content type:
Press release
PODGORICA, 8 July 2019 – The OSCE Mission in Montenegro and the OSCE Gender Section presented today the results of an OSCE survey that shows that social norms and attitudes contribute to gender inequality and violence against women, in the premises of the parliament during the 35th session of the Gender Equality Committee. The survey also showed that there is a sound legal framework for combating violence against women in Montenegro, but that it needs to be updated and fully implemented.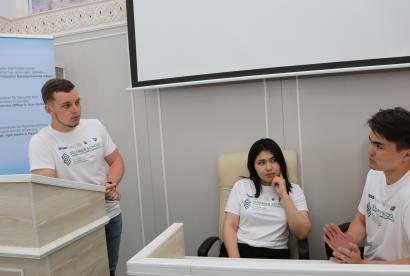 Publishing date:
8 July 2019
An OSCE-supported summer school for law students and young law researchers, focusing on the relationship between human rights and cybersecurity, began on 8 July 2019 in Nur-Sultan.
Publishing date:
7 July 2019
Content type:
Press release
LUXEMBOURG, 7 July 2019 – High-level officials addressed the OSCE Parliamentary Assembly today, urging effective multilateralism and better alignment of regional organizations in advancing sustainable development. The OSCE PA is meeting in Luxembourg for its 28th Annual Session under the theme "Advancing Sustainable Development to Promote Security: The Role of Parliaments."