News and press releases from the OSCE's global activities.
Publishing date:
17 May 2018
On 11 May 2018, a public dialogue was organized by the Central Commission for Elections and Referenda of the Kyrgyz Republic (CEC) and the public foundation Civic Platform, with the support of the OSCE Programme Office in Bishkek, to discuss ways to improve the electoral legislation and to identify the main strategic directions of electoral reform.
Publishing date:
16 May 2018
Content type:
Press release
MINSK, 16 May 2018 – The Special Representative of the OSCE Chairperson-in-Office in Ukraine and in the Trilateral Contact Group (TCG), Ambassador Martin Sajdik, made the following statement to the press after the meeting of the TCG and its Working Groups in Minsk on 16 May 2018:...
Publishing date:
16 May 2018
A well-governed security sector, grounded in respect for human rights and the rule of law, strengthens society's resilience to threats to security and stability, said OSCE Secretary General Thomas Greminger at a high-level side event on the margins of the 27th Session of the UN Commission on Crime Prevention and Criminal Justice in Vienna on 16 May 2018...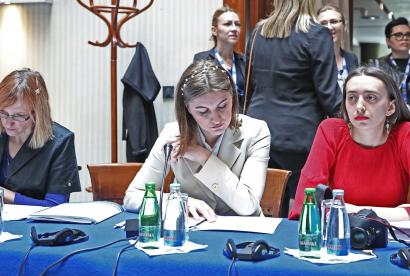 Publishing date:
16 May 2018
Content type:
Press release
SARAJEVO, 16 May 2018 – Women journalists in Bosnia and Herzegovina (BiH) are frequently subjected to gender-based and other forms of unequal treatment, harassment and threats while carrying out their professional duties, concluded participants of the two-day conference Status and Protection of Women Journalists in the BiH Media today in Sarajevo...
Publishing date:
16 May 2018
Strengthening protection and preparedness against terrorist attacks aimed at critical energy infrastructure was the focus of a risk-assessment and crisis management exercise in Sarajevo on 16 and 17 May 2018, organized by the OSCE Transnational Threats Department and the OSCE Mission to Bosnia and Herzegovina...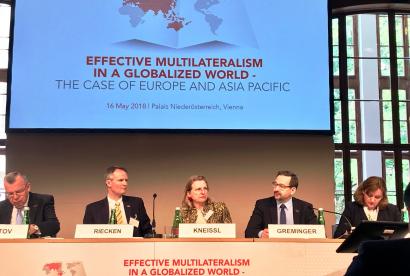 Publishing date:
16 May 2018
Content type:
Press release
VIENNA, 16 May 2018- Austrian Foreign Minister Karin Kneissl opened today the high-level conference Effective Multilateralism in a Globalized World – The Case of Europe and Asia Pacific in Vienna. The conference takes place in the framework of the Austrian Chairmanship of the OSCE Asian Contact Group. It aims to reassess the main security challenges in both the European and Asia-Pacific regions together with representatives of OSCE participating States, international organizations – the United Nations, the OSCE, the International Atomic Energy Agency and the Comprehensive Nuclear-Test-Ban Treaty Organization in particular- but also civil society, academia and the media.
Publishing date:
16 May 2018
Over 30 parliamentarians, holders of executive positions, and experts from Albania, Bosnia and Herzegovina (BiH), Croatia, Serbia, Montenegro and the former Yugoslav Republic of Macedonia gathered on 15 May 2018 in Sarajevo at a regional meeting on gender equality and corruption hosted by the OSCE Mission to BiH, in co-operation with the OSCE Office for Democratic Institutions and Human Rights and the OSCE field operations in the region...