News and press releases from the OSCE's global activities.
Publishing date:
18 July 2018
The final report by the OSCE Office for Democratic Institutions and Human Rights (ODIHR) on the 11 April 2018 early presidential election in Azerbaijan recommends that electoral legislation be revised through a genuine participatory and consultative process, sufficiently in advance of the next
Publishing date:
17 July 2018
Content type:
Weekly report
KAMENSK-SHAKHTINSKIY, Russian Federation. The Observer Mission (OM) continues to operate 24/7 at both Border Crossing Points (BCPs). The overall number of border crossings has increased at both BCPs...
Publishing date:
17 July 2018
An Information Resource Centre for Public Environmental Awareness and Culture and Improving People's Ecological Knowledge was opened by the Ecological Movement of Uzbekistan, with the support of the Group of Ecological Movement Deputies within the Legislative House of Uzbekistan's parliament, the Oliy Majlis, and the OSCE Project Co-ordinator in Uzbekistan, on 17 July 2018 in Tashkent...
Publishing date:
17 July 2018
The OSCE Programme Office in Dushanbe organized a series of awareness-raising discussions on requirements of UN Security Resolution 1540 and its implementation by Tajikistan.
Publishing date:
17 July 2018
Content type:
Daily report
The SMM recorded more ceasefire violations in Donetsk and Luhansk regions, compared with the previous reporting period. The SMM heard explosions (assessed as outgoing mortar rounds) and small-arms fire about 100m from its position in a residential area of non-government-controlled Dokuchaievsk. The SMM continued monitoring the disengagement areas near Stanytsia Luhanska, Zolote and Petrivske; its access remained restricted in all three areas. It was again restricted in areas of Donetsk region outside government control near Zaichenko and Bezimenne, as well as in Voznesenivka, an area of Luhansk region close to the border with the Russian Federation. The Mission observed weapons in violation of withdrawal lines on both sides of the contact line. The SMM continued to facilitate the operation of the Donetsk Filtration Station, including through monitoring the security situation around the station, as well as repairs and maintenance works to critical civilian infrastructure near Artema, Novotoshkivske, Zolote-5/Mykhailivka, as well as in Zalizne and Horlivka. In Odessa, the SMM followed up on reports of an attack against journalists...
Publishing date:
17 July 2018
The OSCE Mission to Montenegro, in co-operation with the Ministry for Human and Minority Rights, organized a co-ordination meeting with municipal gender focal points on 11 July in Podgorica. The participants evaluated accomplishments and activities carried out by the municipalities in the last period and discussed and co-ordinated future activities.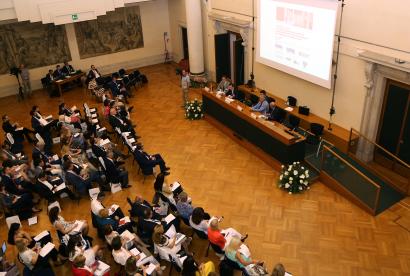 Publishing date:
16 July 2018
Content type:
Press release
UDINE, Italy, 16 July 2018 – Where states focus on efforts to integrate majority and minority communities on their own territories, societies become more resilient and national minorities are less likely to be at the centre of inter-State issues, said participants at the conclusion of today's conference in Udine, Italy, marking the 10th anniversary of the OSCE High Commissioner's Bolzano/Bozen Recommendations on National Minorities in Inter-State Relations.