News and press releases from the OSCE's global activities.
Publishing date:
15 October 2020
Students and teachers of the Turkmen State Energy Institute in Mary participated in an OSCE-organized webinar on net energy consumption as a new ecological and energy-saving system. The online event took place from 14 to 17 October 2020.
Publishing date:
15 October 2020
From 1 to 15 October 2020, political parties, coalitions, and independent candidates participating in the 2020 local elections signed an election pledge in 25 local communities across Bosnia and Herzegovina (BiH). With the support of the OSCE Mission to BiH, the election pledge was developed by representatives of the municipal/city election commissions, municipal/city administration and civil society organizations...
Publishing date:
15 October 2020
Content type:
Daily report
Summary The SMM recorded one ceasefire violation in Donetsk region and none in Luhansk region. In the previous reporting period, it recorded no ceasefire violations in either region. The Mission continued monitoring the disengagement areas near Stanytsia Luhanska, Zolote and Petrivske. During
Publishing date:
15 October 2020
A three-day online regional workshop on delimitation and demarcation practices for the South-East European OSCE participating States concluded on 15 October 2020. The event was organized by the Border Security and Management Unit of the OSCE Transnational Threats Department and focused on maritime boundaries.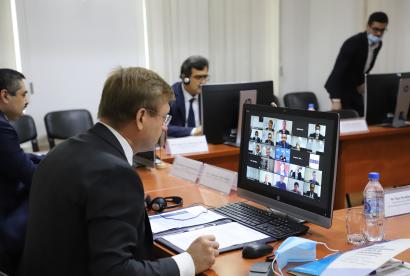 Publishing date:
15 October 2020
The OSCE Programme Office in Dushanbe (POiD) will pursue its activities in 2021 in Tajikistan, in line with its existing mandate and relevant priorities of the host country, within all three dimensions of the OSCE's comprehensive and co-operative approach to security. The joint agreement between the OSCE and the Government of Tajikistan was declared at the annual OSCE Partnership Platform meeting in Dushanbe on 15 October 2020. The meeting brought together high-ranking officials from Tajikistan's government agencies and representatives of the OSCE.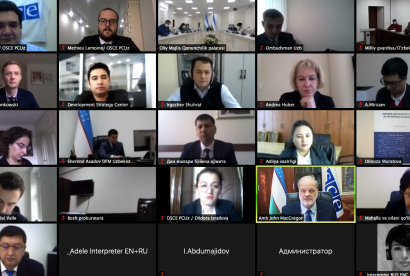 Publishing date:
15 October 2020
A two-day series of online events on the nature, status and scope of the Right to Freedom of Religion or Belief for all (FoRB) as enshrined in international standards and the OSCE human dimension commitments concluded on 14 October 2020. The OSCE Project Co-ordinator in Uzbekistan organized the events targeted for Uzbekistan state officials. The series also included a briefing on the OSCE/ODIHR Freedom of Religion or Belief and on Security Policy Guidance...
Publishing date:
15 October 2020
Content type:
Press release
VIENNA, 15 October 2020 – The Office of the OSCE Representative on Freedom of the Media (RFoM) published today a legal review of the draft Federal Act on Measures to Protect Users on Communications Platforms (Kommunikationsplattformen-Gesetz – KoPI-G) by the Republic of Austria. The review was officially submitted to the President of the National Council, Wolfgang Sobotka, and to the Federal Chancellery of the Republic of Austria on 15 October 2020.