Goal 16: Peace, justice and strong institutions
Peace, Justice and Strong Institutions
Achieving peaceful, just and inclusive societies is a common aim of all of the OSCE's work on the many and varied aspects of security. The participating States engage in regular political negotiations and develop and implement military confidence-and security-building mechanisms to maintain sustainable peace. The OSCE plays a leading role in mediating peaceful solutions to the protracted conflicts in its region.
The OSCE's executive structures, institutions and field operations address human rights and rule of law, corruption and crime control, discrimination and inequality, economic, labour, and migration policies. They assist the participating States in their efforts to prevent human trafficking, eliminate corruption and provide legal identities to stateless people. The High Commissioner on National Minorities engages with governments and national minorities to promote peace and the integration of diverse societies with a new to preventing crises and conflicts.
The goal of creating inclusive and peaceful societies has been the driving force behind the OSCE's support to the implementation of the Aarhus Convention on Access to Information, Public Participation in Decision-making and Access to Justice in Environmental Matters, including by facilitating a large network of Aarhus Centres in South Eastern Europe, Eastern Europe, the South Caucasus, and Central Asia.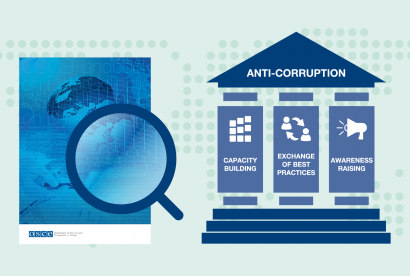 Corruption poses a significant threat to security and stability. It undermines democracy, diminishes the rule of law, and hinders social and economic development by diverting much needed investments from welfare and infrastructure to the pockets of corrupted individuals. Widespread corruption can lead to general public dissatisfaction towards State institutions, disillusion with the government, which can result in unrest and instability.
Read More...
Page - Activities - Office of the Co-ordinator of OSCE Economic and Environmental Activities
The Mission's initial focus on conducting elections originated with the 1995 Dayton Peace Agreement, before being transferred to Bosnia and Herzegovina's Central Election Commission in 2002. The Mission continues to work on broader election-related initiatives today.
Read More...
Page - Activities - OSCE Mission to Bosnia and Herzegovina - Elections, Human dimension
Bosnia and Herzegovina can further gain from a greater degree of public trust in its security sector and increased capabilities to effectively and adequately deal with contemporary and emerging security challenges and threats.
Read More...
Page - Activities - OSCE Mission to Bosnia and Herzegovina - Reform and co-operation in the security sector, Politico-military dimension
The Mission works to advance institutional and human capacity of the country's border management institutions and agencies, ensuring that they function in a more effective and human-rights compliant manner.
Read More...
Page - Activities - OSCE Mission to Bosnia and Herzegovina - Border management, Politico-military dimension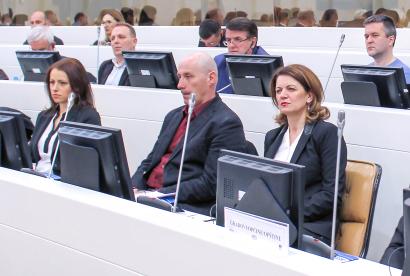 In the thematic area of democratization, the Mission works on safeguarding the main principles of democratic governance at all levels of authority and ensuring that institutions and governments in Bosnia and Herzegovina are responsive, transparent, effective, representative of and accountable to citizens.
Read More...
Page - Activities - OSCE Mission to Bosnia and Herzegovina - Democratization, Cross-dimensional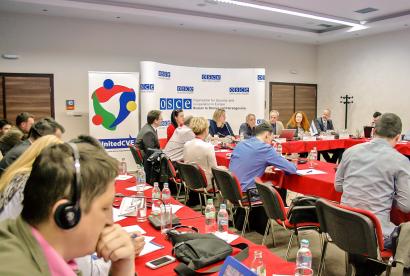 In line with the OSCE Consolidated Framework for the Fight against Terrorism, the Mission assists authorities in Bosnia and Herzegovina in preventing and combating terrorism in a manner that upholds the rule of law and ensures respect for human rights and fundamental freedoms.
Read More...
Page - Activities - OSCE Mission to Bosnia and Herzegovina - Countering terrorism, Politico-military dimension
The Mission works closely with security sector institutions to decrease the risk of accidental explosion, theft and onward proliferation of weapons and ammunition stockpiles in BiH. Safer and more secure storage, handling and disposal of unstable and surplus ammunition is being attained through upgrades to physical security infrastructure at ammunition and weapons storage sites and improved ammunition and weapons life cycle management.
Read More...
Page - Activities - OSCE Mission to Bosnia and Herzegovina - Arms control, Politico-military dimension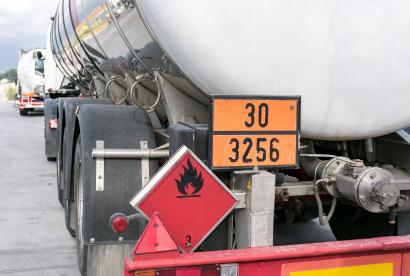 "We may not have certainty to what extent terrorists seek to acquire weapons of mass destruction, but the consequences of an attack would be horrible", says Adriana Volenikova, Associate Project Officer in the OSCE Conflict Prevention Centre (CPC). "We must do what we can to keep these weapons out
Read More...
Story - Article - Forum for Security Co-operation - Arms control, Politico-military dimension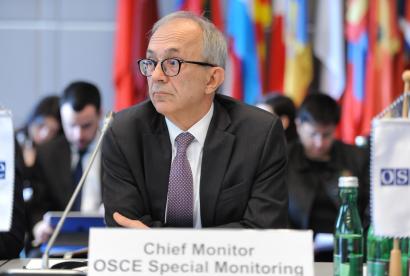 VIENNA, 7 February 2020 – Despite the positive impact of recent disengagement in the three agreed areas and the reconstruction of the bridge near Stanytsia Luhanska, a comprehensive ceasefire remains an essential element for progress, said the Chief Monitor of the OSCE Special Monitoring Mission (SMM) to Ukraine, Yaşar Halit Çevik, in his address to the OSCE Permanent Council yesterday in Vienna.
Read More...
Press Release - OSCE Special Monitoring Mission to Ukraine - Conflict prevention and resolution, Politico-military dimension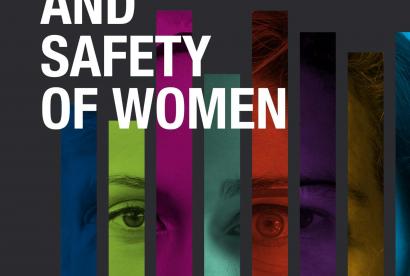 This report explores the ways in which women have been directly affected by conflict and experiences of VAW in the context of conflict versus non-conflict settings. It provides an overview of the prevalence, forms and nature of conflict-related violence in the region covered by the OSCE-led survey. The data collected provides information about the prevalence of conflict-related incidents of physical and sexual violence, sexual harassment and stalking in pre-conflict settings, during conflict and in post-conflict situations. This data had never been collected in the OSCE region before, and this report will feed into the OSCE's work on conflict early warning.
Read More...
Document - Report - OSCE Secretariat - Gender equality, Cross-dimensional