Ženy, mier a OBSE: Fotosúťaž
When
4 April 2019 (All day)
-
15 May 2019 (All day)
Where
Fotografiu s 'hashtagom' #WomenPeaceOSCE nahrajte na Instagram
Organized by
Predsedníctvo Slovenska v OBSE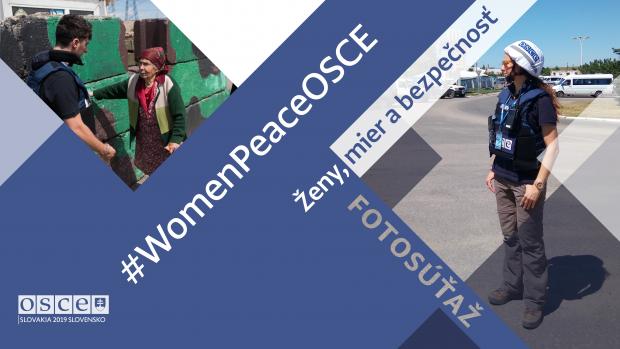 Prečo organizujeme túto súťaž?
V minulosti boli mier a bezpečnosť považované za prevažne mužskú záležitosť. Dôvod takéhoto zmýšľania bol jednoduchý; muži boli tí, ktorí boli zodpovední za vojnu, a preto boli považovaní tiež za tých, ktorí mali priniesť mier. Dnes už však vieme, že toto zmýšľanie bolo nesprávne. Po stáročia zohrávali ženy po celom svete kľúčovú úlohu počas celého priebehu konfliktu, čo bolo uznané aj Bezpečnostnou radou OSN, ktorá v roku 2000 prijala rezolúciu č. 1325 o ženách, mieri a bezpečnosti. Toto prevratné uznesenie potvrdilo, že ženy a dievčatá trpia konfliktmi a ich dôsledkami viac ako muži a musia byť preto adekvátne chránené. Okrem toho zdôraznila, že účasť žien na procesoch prevencie a riešenia konfliktov, ako aj na budovaní mieru po ukončení konfliktu je rozhodujúcim aspektom pre medzinárodný mier a bezpečnosť.
Ako svetovo najväčšia organizácia pre regionálnu bezpečnosť zohráva OBSE kľúčovú úlohu pri podpore programu Ženy, mier a bezpečnosť. O to významnejšia sa táto úloha stáva s prichádzajúcim 20. výročím prijatia rezolúcie č. 1325.
Zo svojej pozície predsedníckej krajiny pri OBSE v roku 2019 organizuje Slovensko fotografickú súťaž na tému "Ženy, mier a OBSE". Jej cieľom je upriamiť pozornosť na ženy v regióne OBSE a ich prínos pre mier a bezpečnosť - či už prostredníctvom ich práce, alebo ich pôsobením v každodennom živote.
Kto sa môže zúčastniť?
Súťaže sa môžu zúčastniť ako ženy, tak aj muži. Jedinou podmienkou je mať občianstvo aspoň jednej z 57 účastníckych krajín OBSE.
Aký druh fotografií môže vyhrať?
Vhodné sú fotografie, ktoré reflektujú tematiku Ženy, mier a bezpečnosť v akcii v regióne OBSE. To znamená, že priestor pre tvorivosť a originalitu je naozaj široký. Fotografia môže zobrazovať napríklad ženy, ktoré pracujú v organizáciach alebo občianskych združeniach s agendou podpory mieru a bezpečnosti. Takisto môže vyobrazovať prácu ženy v povolaní mediátora, alebo ponúknuť úplne nový pohľad na ženy v oblasti bezpečnosti. Ostávame otvorení novým nápadom!
Viac detailov môžete nájsť v pravidlách súťaže a v zásadách ochrany súkromia. Oba dokumenty sú dostupné výlučne v anglickom jazyku.
Ako sa môžem zapojiť?
Je to jednoduché! Stačí nahrať akúkoľvek fotografiu, o ktorej si myslíte, že má čo povedať ku téme "Ženy, mier a OBSE" na Instagram spolu s hashtagom #WomenPeaceOSCE. Nezabudnite, že Váš príspevok bude možné vidieť len vtedy, ak je Váš Instagram účet verejný.
V prípade, že nemáte účet na Instagrame, môžete fotografiu (maximálna veľkosť 8 MB) odoslať emailom na adresu wps@mzv.sk.
Všetky fotografie musia byť nahrané na Instagram alebo zaslané emailom najneskôr do 15. mája 2019.
Víťazi budú kontaktovaní najneskôr 31. mája 2019*.
Najlepšie fotografie, ako aj víťaza súťaže vyberie komisia zložená zo zástupcov Stálej misie Slovenskej Republiky pri OBSE vo Viedni a zástupcov sekretariátu OBSE.
Aké ceny môžem vyhrať?
Vybrané fotografie budú prezentované na výstave Ženy, mier a bezpečnosť, ktorú bude organizovať Slovenské predsedníctvo v OBSE na konci roka 2019. Autor víťaznej fotografie dostane príležitosť zúčastniť sa otvorenia exhibície.
* Pred uverejnením zoznamu vybraných fotografií budú kandidáti kontaktovaní pre účely overenia.
Na základe pravidiel súťaže budú pred potvrdením výhry vybraní účastníci súťaže kontaktovaní pre účely poskytnutia informácií a overenia. Viac informácií o súťaži a o ochrane súkromia nájdete v podrobných pravidlách súťaže.
V súlade s pravidlami súťaže budú súťažiaci kontaktovaní pre informačné a overovacie účely predtým, ako budú oficiálne zaradený na zoznam výhercov. Viac informácií je k dispozícii prostredníctvom našich zmluvných podmienok alebo zásad ochrany osobných údajov. Táto súťaž nie je v žiadnom smere sponzorovaná, podporovaná alebo spravovaná spoločnosťou Instagram alebo s ňou inak spojená.