Müslüman Karşıtı Nefret Suçlarını Anlamak: Müslüman Toplulukların Güvenlik İhtiyaçlarının Ele Alınması - Uygulama Kılavuzu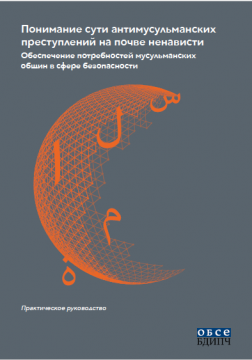 İster şiddet ister ayrımcılık, ister saldırı ister sanal taciz şeklinde olsun, Müslümanlara yönelik her türlü hoşgörüsüzlük, Müslüman bireylerin ve toplulukların yaşamını olumsuz etkilemektedir. Bu Kılavuz, polisin ve diğer kurumların, Müslüman toplulukların ve bireylerin güvenlik ihtiyaçlarını karşılama kapasitesini geliştirmek amacıyla, güvenlik risklerinin ve alınması gereken tedbirlerin analiz edilmesi de dahil olmak üzere, hükümetlerin nefret suçlarının önlenmesi ve bu suçlarla mücadele edilmesi konusunda atacağı adımlara yardımcı olmayı amaçlamaktadır. Ayrıca, Müslümanlara yönelik nefret suçlarının yeterince ihbar edilmemesi ve kayda geçirilmemesi gibi belirli hususlara da değinilmektedir. Bunun yanı sıra, hükümetlere Müslüman toplulukların güvenliğine ilişkin sorunların üzerine eğilirken, bu topluluklar bünyesindeki çabalara paralel şekilde atabilecekleri pratik adımlar sunulmaktadır.
The views, opinions, conclusions and other information expressed in this document are not given nor necessarily endorsed by the Organization for Security and Co-operation in Europe (OSCE) unless the OSCE is explicitly defined as the Author of this document.