Xolinatar Kontra-Roma Krima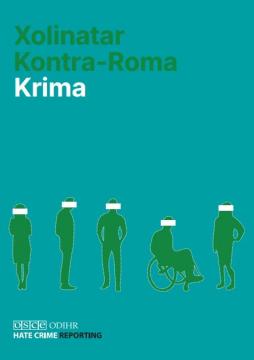 I intolerancja thaj i diskriminacja dine dab e komunitetă le Romenge thaj Sinturenge śela berśa, thaj si jekh avdives griźa and-o OSCE thanipen, andre si vi o nasulărdo vakăripen thaj ăl stereotipură vaś e Roma. Butivar, kadaja intolerancja daśtil te paruvdel pes and-e xolinatar kontra-Roma krima savi śaj te avel jekh grafitti kontra ăl Roma ӡi ko azbavipen rasjalo. Holinaki krima si la jekh zoralo, dureardo impakto karing ăl viktimură, dikerel maj dur o bibarabaripen, thaj kovlărel o sekuriteto thaj soćjalo solidariteto. Xolinatar kontra-Roma krima biśărel jekh mesaźo eksluzjako le Romenge thaj Sinturenge save si viktimură thaj lengere komunitetenge, aba vi karing o să tamipen. Săkojekhes si les jekh godorvalipen ka te phagel ăl xolinatar kontra-Roma krime thaj să ăl umala intolerancjake thaj diskriminacjake. Kadaua informacijako lil liparel o impakto so thabdel kotar i xolinatar kontra-Roma krima thaj sikavdel sar te prindzăren pen kadala krime.
The views, opinions, conclusions and other information expressed in this document are not given nor necessarily endorsed by the Organization for Security and Co-operation in Europe (OSCE) unless the OSCE is explicitly defined as the Author of this document.