Recomandarile de la Lund cu Privire la Participarea Efectiva a Minoritatilor Nationale La Viata Publica (ro)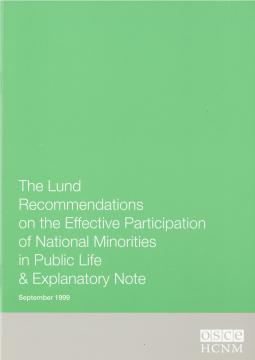 A set of HCNM recommendations on the effective participation of national minorities in public life.
These HCNM recommendations are available to download in PDF format or you can order a print copy using the link below.
Viziunile, opiniile, concluziile și alte informații exprimate în acest document nu reflectă în mod necesar poziția Organizației pentru Securitate și Cooperare în Europa (OSCE), cu excepția cazurilor când OSCE este menționată în mod explicit drept autor al documentului.