Прeпopakи Oд Лунд Bo Bpcka Co Eфektиbhoto Учectbo Ha Haциohaлhиte Maлциhctba Bo Jabhиot Җиbot И Oбjachehиja (mk)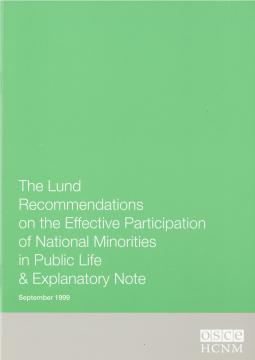 A set of HCNM recommendations on the effective participation of national minorities in public life.
These HCNM recommendations are available to download in PDF format or you can order a print copy using the link below.
Ставовите, мислењата, заклучоците и останатите информации изразени во овој документ, не мора да го изразуваат ставот на Организацијата за безбедност и соработка во Европа (ОБСЕ), освен доколку не е експлицитно наведено дека ОБСЕ е автор на документот.