Milli azlıqların ictimai-siyasi həyatda effektli iştirakına dair Lund Tövsiyələri (az)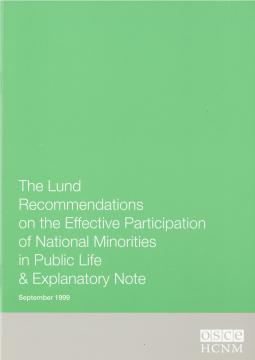 A set of HCNM recommendations on the effective participation of national minorities in public life.
These HCNM recommendations are available to download in PDF format or you can order a print copy using the link below.
Avropada Təhlükəsizlik bə Əməkdaşlıq Təşkilatının (ATƏT) müəllif kimi göstərildiyi hallar istisna olmaqla, sənədlərdə əksini tapan baxışlar, rəylər, nəticələr və digər məlumatlar ATƏT-in mövqeyini əks etdirməyə bilər.