Election Observation Handbook: Sixth Edition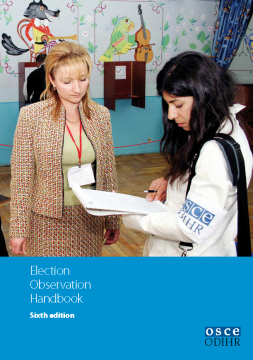 The sixth edition of ODIHR's Election Observation Handbook.
This handbook was developed, first and foremost, as a practical guide for members of election observation missions. At the same time, it has become a major reference document for ODIHR's election observation methodology and, as such, has also inspired other observer groups, both domestic and international, in developing their own election observation capacity.
ODIHR's election observation methodology has evolved over the years to reflect the experience gained from observing or assessing more than 230 elections, leading to the development of an ever more-refined approach to observing or assessing elections in different circumstances and responding to varying needs. A long-term, comprehensive, consistent and systematic election observation methodology has become the bedrock of ODIHR's credibility in this field.
In December 2006, the OSCE Ministerial Council tasked ODIHR to "further strengthen the observation methodology" and "to give utmost attention to the independence, impartiality and professionalism" of its election observation activities. Accordingly, five years after the last edition was published, and on the 20th anniversary of the Copenhagen Document, ODIHR is pleased to present this, the handbook's sixth edition. This volume is the result of a thorough review, taking into account the advances ODIHR has made in further developing its methodology.
This new edition takes account of developments in field practices that have evolved since 2005, such as those for observing new voting technologies and an increased emphasis on the observation of post-election developments. It includes details on how ODIHR has tailored its election-related activities to needs that have been identified in order to best assist participating States with the resources available. As such, this edition of the Handbook provides an overview of the different formats that ODIHR can employ when undertaking election-related activities, including election observation missions, limited election observation missions, election assessment missions and expert teams. Finally, it also elaborates on follow-up to ODIHR election-related recommendations, as well as on media and statistical analysis.
The views, opinions, conclusions and other information expressed in this document are not given nor necessarily endorsed by the Organization for Security and Co-operation in Europe (OSCE) unless the OSCE is explicitly defined as the Author of this document.