(Un)ordinary woman's story
The pressure and the noise of daily news and developments, which make every corner of the world feel like a tight-knit neighbourhood, suddenly stops when we meet Dejana Maksić.
Dejana, a 42 year-old Kosovo Serb returnee, lives in Osojane/Osojan, a small village tucked away in the valley between Klinë/Klina and Istog/Istok in Western Kosovo. Nature has been generous in this area, with natural beauties complementing the lives of the hardworking local people living there. The village is peaceful in this early spring sun and clean fresh air, overlooking the mountains with slopes still covered with snow. Time seems to stand still.
Meeting us for the first time, she welcomes us with a big smile, happy to receive the unusual visitors and in disbelief that she can be a role model to anyone. As a mother of two, she found her way of making a living and she is well aware of breaking stereotypes by servicing both genders in Osojane/Osojan and in surrounding villages.
The atmosphere in her 'salon' is cheerful, with lots of laughter, chitchat and coffee. Some of the wonderfully friendly clients who came to Dejana from early on include her relatives. The visit to the hairdresser for a hair treatment gets another important dimension: a worthwhile socializing routine.
One step at a time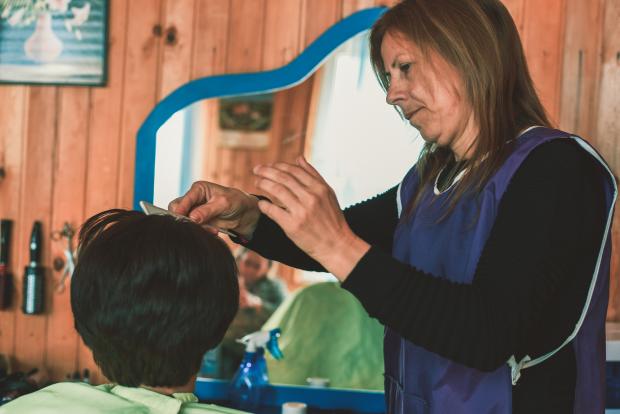 There is a certain melancholy when she starts talking about her beginnings in this profession. As a displaced person from Kosovo in 1999, while living in Berane, Montenegro, out of curiosity she attended a short hairdressing course, unaware how much it would help her later. Longing for her home, she returned to Osojane/Osojan in 2001 and started her own business.
She lacked a premise to start with, taking her basic equipment -- scissors, combs, and a hair clipper -- and going to the clients' houses to cut or dye their hair. In small and close-knit communities, it is somehow understood that a man is the one who earns, while women take care of household chores. Dejana knew she wanted to work, so with the support of her husband, she built a prefabricated facility with a small donation at that time.
She worked for years with the basic hairdresser equipment she had, but then she wanted to do more.
"I was very sorry that I was not able to wash my customer's hair. When, for example, I dye my customer's hair, they needed to go home to wash it themselves. And you can imagine how difficult that was during the winter."
Assistance that matters
In spring 2021, the OSCE Mission in Kosovo conducted needs assessment for women returnees and women from non-majority communities, aimed at their economic empowerment. After consultations, the Mission organized a conference with international donors, the local employment office, representatives of civil society, and women returnees to present them with employment opportunities, training and grants for the development of small businesses.
Dejana's professional aspiration and willingness to provide better services for her customers motivated her to attend the Mission's consultation sessions "Consultations with women returnees and women from non-majority communities on access to employment opportunities" and express the needs of women returnees, which are often not articulated enough in the public discourse.
And it made a difference. The Mission supported Dejana with a hair-washing chair and other supportive equipment such as hair dryers, a hair straightening iron, a curling iron, scissors, and trimmers amongst others. Dejana offers immense gratitude to the Mission for this support.
"The most important is that this really made my customers happy. They finally have a complete hair dresser's service as anywhere else. I also hope that I will have more customers, and that it will improve my income."
"Starting a business, as an entrepreneur, in a small place is not as difficult as it is to sustain the work. Many people started their business but were unable to continue, especially with the emergence of the COVID-19 pandemic," Dejana says.
Hope for a better future as driving force
Nevertheless, the eyes of this young woman shine with a special radiance when she speaks of her plans for the future.
"I would like to expand my existing knowledge and attend some of the advanced courses for hairdressers or cosmetic courses, which are usually organized in Mitrovicë/Mitrovica. It is my great wish, but the possibilities are limited."
"My message to women is to follow their dreams, face challenges, seize the opportunities and be persistent in achieving their goal. To be self-confident and determined, and they will surely succeed," she concludes.
Dejana sends us away smiling, friendly. This woman, one of many in Kosovo, accepts life with all the adversity and challenges it brings, waiting for the next challenge, the next opportunity to show what she can do and what she knows. She is one of many, one of us, and if her story is not inspiring enough to you, look around, talk to women in your immediate surroundings and find your example, your 'heroine'.
The OSCE Mission in Kosovo invites all women to celebrate their struggles and achievements every day, as if every day is the Woman's International Day. As if, every day is your day!