فهم دور النوع الاجتماعي في منع ومكافحة التطرف العنيف والراديكالية المؤديين إلى الإرهاب -الممارسات الجيدة لإنفاذ القانون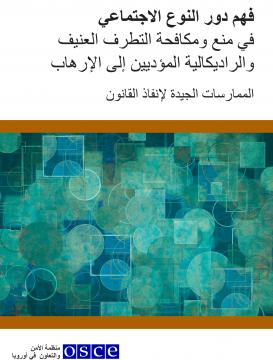 يقدم هذا الدليل إرشادات للجهات الفاعلة في مجال إنفاذ القانون والأمن بشأن كيفية فهم ديناميات النوع الاجتماعي بشكل أفضل في منع ومكافحة التطرف العنيف والراديكالية المؤديين إلى الإرهاب، ويهدف إلى مساعدتها على في إنشاء استجابات أفضل وأكثر مراعاة للنوع الاجتماعي. وهو يستكمل سلسلة من الكتيبات الإقليمية المركزة التي نشرتها وحدة مكافحة الإرهاب في عامي 2018/2019 حول التحديات في تطوير وتنفيذ برامج فعالة في منع ومكافحة التطرف العنيف والراديكالية المؤديين إلى الإرهاب. وعلى الرغم من أن هذا الدليل مصمم خصيصًا لسلطات إنفاذ القانون، إلا أننا نتوقع أن يكون هو وغيره من المنشورات بمثابة موارد قيمة أيضًا لصانعي السياسات والجهات الفاعلة في المجتمع المدني في منطقة منظمة الأمن والتعاون في أوروبا الذين يعملون على تعزيز مناهج شاملة للسلام والأمن.
This guidebook is one in the series of guidebooks produced by the Action against Terrorism Unit (ATU) in the OSCE Secretariat's Transnational Threats Department
إنّ الآراء ووجهات النظر والإستنتاجات والمعلومات المُعرب عنها بهذه النشرية ليست مُقدّمة من طرف منظمة الأمن والتعاون بأوروبا ولا تؤيدها بالضرورة إلا في حالة الإشارة الصريحة إلى أنّ المنظمة هي صاحبة هذه الوثيقة.