Police Reform within the Framework of Criminal Justice System Reform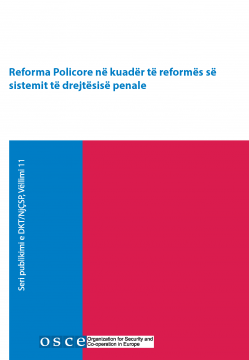 Ky Udhëzues i identifikon marrëdhëniet në procesin e drejtësisë penale ndërmjet vetë institucioneve të ndryshme të SDP-së dhe ndërmjet tyre dhe agjencive të tjera relevante qeveritare, si dhe ofruesve joqeveritarë të sigurisë dhe drejtësisë dhe shoqërisë civile. Udhëzuesi shtjellon disa praktika të mira në adresimin e këtyre marrëdhënieve në hapa reformuese praktike dhe i identifikon opsionet për përforcimin e bashkëpunimit ndërkombëtar në përvetësimin e një qasjeje tërësore të reformimit të SDP-së. Angazhimi i OSBE-së për përpilimin e këtij Udhëzuesi është mirëpritur nga shtetet pjesëmarrëse të OSBE-së, organizata të tjera partnere ndërkombëtare dhe institucione hulumtuese, si dhe praktikues individualë të SDP-së, shumë prej të cilëve ishin mjaft të lumtur t'i ndajnë përvojat e tyre në zbatimin e një qasjeje të tillë të reformës tërësore.
Pikëpamjet, opinionet, përfundimet dhe informacionet e tjera të shprehura në këtë dokument as nuk janë dhënë dhe as nuk mbështeten detyrimisht nga Organizata për Siguri dhe Bashkëpunim në Evropë (OSBE), me përjashtim të rastit kur OSBE-ja është e përcaktuar qartë si Autorja e këtij dokumenti.