Katalogi e Drabyengo thay Azhutipe vash o Komuniteteske Jene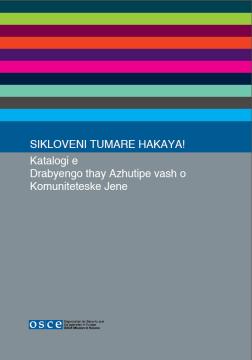 O res akale katalogesko sito kay tumenge, sar jeno e komunitetesko ani Kosova, te del informacie vash odoleske so te keren te sine kay situmen problemi vay ushkavipe ano adikeripe tumare sherune hakayengo. Ov astarela so may but ververutne segmentya kote o baro vasnipe, sar kotar o alosaripe e diskriminaciako ani sura e poleski thay avipeski, ji ko so te keren te sine kay gndinena kay e policia maltretirinela vash o sebepi tumare komuniteteske identitetesko, sar te sigurinen kay o anav tumare gavesko sito shukarno hramimo ano sah o qhibya ano dromenge hramipya.
The views, opinions, conclusions and other information expressed in this document are not given nor necessarily endorsed by the Organization for Security and Co-operation in Europe (OSCE) unless the OSCE is explicitly defined as the Author of this document.