News and press releases from the OSCE's global activities.
Publishing date:
9 June 2017
Content type:
Press release
SKOPJE, 9 June 2017 – The Head of the OSCE Mission to Skopje Nina Suomalainen met today in Skopje with the newly elected Prime Minister Zoran Zaev and congratulated on his election as the Prime Minister...
Publishing date:
28 April 2017
Content type:
Press release
Today, we met to discuss yesterday's very serious incidents at the Parliament and review the security situation.
Publishing date:
27 April 2017
Content type:
Press release
VIENNA, 27 April 2017 – OSCE Chairperson-in-Office and Austrian Foreign Minister Sebastian Kurz and OSCE Secretary General Lamberto Zannier firmly condemn tonight's attack on the Parliament building in Skopje. Violence can not substitute for political solutions. Such solutions must be found within the democratic processes in a responsible manner...
Publishing date:
26 April 2017
Legal professionals from seven OSCE field operations and representatives of 29 NGOs from the OSCE region exchanged experiences in trial monitoring at a meeting co-organized by ODIHR and the OSCE Mission to Skopje from 24 to 26 April 2017 in Skopje.
Publishing date:
20 April 2017
The OSCE Mission to Skopje on 20 April 2017 presented the findings and recommendations of an evaluation of the OSCE's training courses for police on the Law on Criminal Procedure, which were conducted between 2011 and 2015...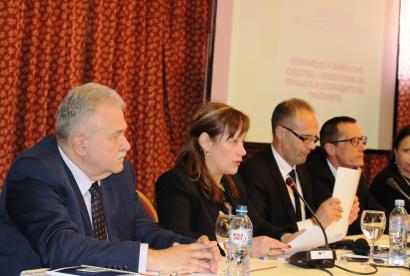 Publishing date:
31 March 2017
An independent and efficient judiciary as a protector of citizens' rights and freedoms was the focus of a conference organized to mark the Day of the Judiciary on 31 March 2017 in Skopje by the OSCE Mission and the Association of Judges...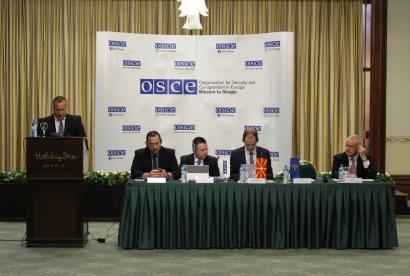 Publishing date:
27 March 2017
Strengthening protection and preparedness against terrorist attacks aimed at industrial control systems is the focus of a table-top simulation held in Skopje on 27 and 28 March 2017. Twenty-six experts from different state authorities and private sector representatives, such as operators, providers and owners, are participating in the national exercise organized by the OSCE Transnational Threats Department with the support of the OSCE Mission in Skopje...