News and press releases from the OSCE's global activities.
Publishing date:
14 December 2017
Regional youth co-operation, the digital engagement of young people, and societal changes and opportunities enabled by the generation of young people commonly referred to as millennials were the focus of an international conference held in Belgrade on 13 and 14 December 2017...
Publishing date:
14 December 2017
Some 100 high-level officials from the region dealing with the fight against corruption and senior representatives of Serbian institutions, civil society organizations and the media gathered for a regional conference in Belgrade on 14 December 2017 to mark the International Anti-Corruption Day.
Publishing date:
12 December 2017
Content type:
Press release
BELGRADE, 12 December 2017 – At a ceremony today in Belgrade, the OSCE Mission to Serbia presented its Person of the Year Awards to: Dženeta Agović, Director of the Impuls civil society organization from Tutin; Brankica Janković, Commissioner for the Protection of Equality; Tamara Mirović, Deputy Republic Public Prosecutor; Nedim Sejdinović, President of the Independent Association of Journalists of Vojvodina; and Miloš Stojković, media lawyer...
Publishing date:
30 November 2017
Some 40 national and international state attorneys and their deputies gathered to discuss the latest developments in the work of state attorneys at an international conference taking place from 30 November to 1 December 2017 in Belgrade.
Publishing date:
7 November 2017
Fostering regional dialogue through youth connectivity between Serbia and Bosnia and Herzegovina, while also promoting youth resilience to security risks in local communities was the focus of a youth intercultural camp held in Kopanik, Serbia, from 3 to 7 November 2017...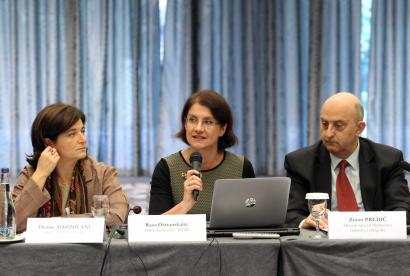 Publishing date:
20 October 2017
Strengthening protection and preparedness against terrorist attacks aimed at critical energy infrastructure was the focus of a risk-assessment and crisis management exercise in Belgrade on 19 and 20 October 2017, organized by the OSCE Transnational Threats Department with the support of the OSCE Mission to Serbia...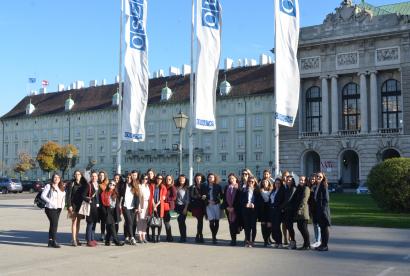 Publishing date:
16 October 2017
The third edition of the OSCE Dialogue Academy for young women from Prishtinë/Priština and Belgrade concluded on 15 October 2017 in Stadtschlaining, Austria. The ten-day Academy was organized as part of the Follow Us Initiative, supported since 2012 by the OSCE Mission in Kosovo and the OSCE Mission to Serbia, as part of their work to enhance women's participation in dialogue and conflict resolution and decision making processes.