News and press releases from the OSCE's global activities.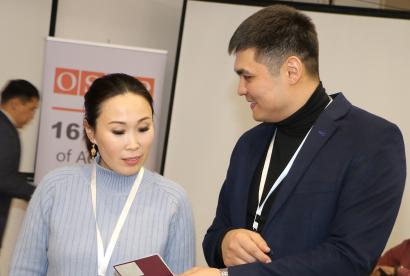 Publishing date:
22 November 2018
From 20 to 22 November 2018, the OSCE Mobile Training Team delivered an interactive national course on identifying foreign terrorist fighters at the borders for 25 first- and second-line border and security officers, including four female participants, in Astana...
Publishing date:
22 November 2018
A three-day training course aimed at further strengthening the capacity of Tajikistan to counter terrorist financing was organized in Dushanbe, Tajikistan, from 19 to 21 November 2018...
Publishing date:
21 November 2018
Content type:
Press release
TASHKENT, 21 November 2018 – OSCE PA President George Tsereteli (MP, Georgia) welcomed today in Tashkent the continued engagement of Uzbekistan with the OSCE, and discussed with the country's authorities how parliamentary diplomacy can contribute to stability and development in Central Asia...
Publishing date:
19 November 2018
Representatives of the municipal administration, local institutions, civil society, education sector, youth, women as well as religious and local community leaders gathered at an OSCE roundtable in Tetovo on 19 November 2018 to discuss the implementation of the National Countering Violent Extremism (CVE) Strategy and Action Plan at the local level...
Publishing date:
15 November 2018
Content type:
Press release
MADRID, 15 November 2018 – Terrorism is a transnational threat that requires a concerted multilateral response at global, regional and national levels, said Greek parliamentarian Makis Voridis, Chair of the OSCE PA's Ad Hoc Committee on Countering Terrorism (CCT), at a conference in Madrid today. At the same time, the tragic human cost of terrorism must remain at the forefront of policy-making discussions, he said...
Publishing date:
2 November 2018
More than 150 experts and law enforcement officials from OSCE participating States and Partners for Co-operation took part in the OSCE's Second OSCE-wide Seminar on Passenger Data Exchange organized by the OSCE Transnational Threats Department's Border Security and Management Unit on 1 and 2 November 2018 in Vienna...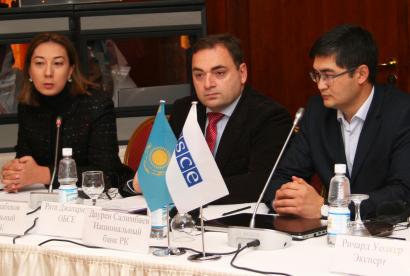 Publishing date:
1 November 2018
An OSCE-supported two-day training seminar for employees of Kazakhstan's Central Bank on the application of a risk-based approach to anti-money laundering and combating the financing of terrorism (AML/CFT) supervision of financial organizations concluded on 1 November 2018 in Almaty, Kazakhstan...