News and press releases from the OSCE's global activities.
Publishing date:
7 October 2022
From 4 to 7 October 2022, the OSCE-Centre in Ashgabat organized a lecture course on Anti-Money Laundering and Combating the Financing of Terrorism (AML/CFT) aspects within the Economy, Finance and Credit, Jurisprudence and International relations disciplines. The four-day event was held in a hybrid
Publishing date:
14 October 2021
Effective good governance in preventing and combatting corruption to promote economic efficiency and favourable business investment climate was the focus of an OSCE-organized online seminar held on 14 and 15 October 2021.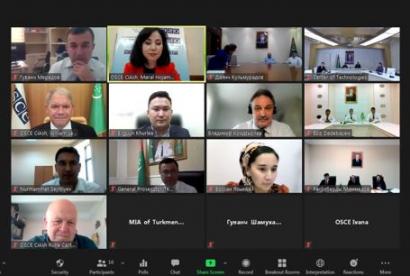 Publishing date:
15 June 2021
Sharing advanced experiences in the development of new systems and mechanisms to promote a corruption-free society facilitated by broadly accessible digital technologies is the subject of an OSCE-organized online seminar that opened in Ashgabat on 15 June 2021. The two-day event will provide an overview on a range of digital technologies in preventing and combatting corruption, and best practices in Digital Government transformation.
Publishing date:
12 October 2020
Representatives of law enforcement bodies, the Mejlis (parliament), financial institutions and other relevant agencies of Turkmenistan discussed the role of digital technologies in investigating and reducing the risks of corruption at an OSCE-organized webinar that opened on 12 October 2020 in Ashgabat...
Publishing date:
16 July 2018
An OSCE-organized national seminar on professional integrity and ethical standards in law enforcement took place on 12 and 13 July 2018 in Ashgabat. Officials from the national security, interior, justice and defence ministries, the Supreme Court, the State Service to Combat Economic Crimes, the State Migration Service and other law enforcement bodies of Turkmenistan participated in the event.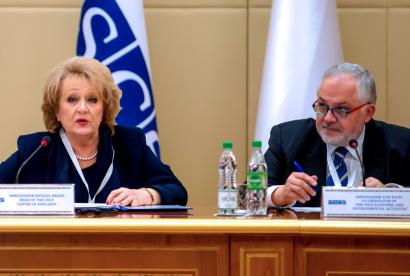 Publishing date:
31 May 2018
"Good Governance and Economic Connectivity- best practices within the OSCE region" was the topic of the OSCE Regional Ministerial Conference organized by the OSCE and the Government of Turkmenistan that ended in Ashgabat on 31 May 2018...
Publishing date:
15 December 2017
International standards and best practices on the independence of the judiciary in the context of criminal justice are the focus of an OSCE-supported series of three two-day seminars that started in Dashoguz on 15 December 2017 and will be continued in Mary until 18 December. The concluding seminar will be held in January 2018 in Ashgabat.