Joint Opinion on the Draft Law No. 3366 Abour Elections tro the Parliament of Ukraine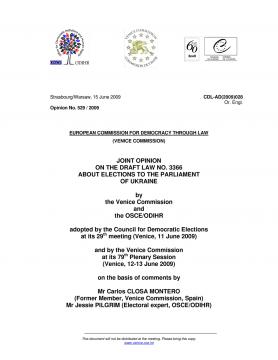 This joint opinion on the Draft Law No. 3366 About Election to the Parliament of Ukraine ("draft law") is provided by the Organization for Security and Co-operation in Europe's Office for Democratic Institutions and Human Rights (OSCE/ODIHR) and the Council of Europe's European Commission for Democracy through Law ("Venice Commission") upon a request from the Ukrainian Parliament Committee on State Building and Local Self-Governance. This joint opinion comments on the most recent version of the draft law (CDL(2009)084). Earlier opinions of the OSCE/ODIHR and the Venice Commission, as well as numerous election reports from previous OSCE/ODIHR and Council of Europe observation missions in Ukraine, provide excellent background for understanding the historical development of the election legislation in Ukraine. This draft law continues to incorporate recommendations for improvement. The most significant change is the introduction of a new electoral system. The system proposed in the draft law provides for 450 parliamentarians to be elected under a form of proportional representation that uses territorial election districts, including a foreign territorial election district where ballots are cast by out of country voters. Under the proposed system, most members of parliament will be elected from national lists, with the mathematical possibility for individual political party candidates to be elected within an in-country territorial election district from a territorial list.
The views, opinions, conclusions and other information expressed in this document are not given nor necessarily endorsed by the Organization for Security and Co-operation in Europe (OSCE) unless the OSCE is explicitly defined as the Author of this document.