Local Authorities' Migrant Integration Guide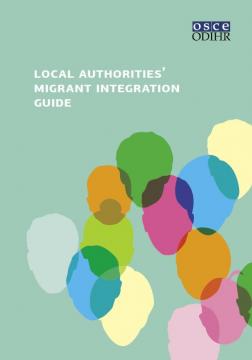 The Organization for Security and Co-operation in Europe (OSCE) is comprised of 57 participating States that have differing experiences in dealing with migration flows, levels of government responsible for migrant integration policies, main countries of immigrant origin, and benefits and challenges associated with migration. Successful migrant integration is key to maximizing the strength, vitality and innovation that migrant populations bring to local communities, thus benefitting society at large. In reality, much of the migrant integration process occurs at the local level. Migrants meet and interact with others, use public services, work, open businesses and study in their new local communities.
This Guide has been developed by the OSCE's Office for DemocraticInstitutions and Human Rights (ODIHR) as part of its programme on migration and freedom of movement. The Guide is developed with a view to assist local authorities, with a wide audience in mind, and may be particularly useful for officials in countries that have only recently become receiving, rather than sending countries. It aims to offer an initial overview of key aspects of migrant integration relevant to local authorities to help promote knowledge and encourage further learning and improved policies and practice.
The views, opinions, conclusions and other information expressed in this document are not given nor necessarily endorsed by the Organization for Security and Co-operation in Europe (OSCE) unless the OSCE is explicitly defined as the Author of this document.