Security through freedom of movement: Ukraine's example
Freer and wider cross-border mobility is an important factor in building a confidence and trust in the OSCE region. Since its inception with the Helsinki Act of 1975, the OSCE (and its forerunner – the CSCE) has encouraged the development of human contacts to be an important element in the strengthening of friendly relations and trust among peoples.
The European Commission's formal proposal to the European Parliament on 20 April 2016 to lift visa requirements for Ukrainian citizens traveling to the Schengen Area for tourism and business is therefore an important move in building that interaction among participating States.
The Office for Democratic Institutions and Human Rights (ODIHR), the OSCE institution working to promote human contact between the citizens of its 57 participating States, has played a key capacity-building role in Ukraine and has welcomed the European Commission's move.
ODIHR assists with the reforms that can lead to visa liberalization among OSCE participating States. Enabling visa-free travel contributes to freer and wider cross-border travel, and promotes freedom of movement in the OSCE region. The development of secure travel documents, including secure procedures for their issuance, allows border authorities to be confident that the document and identity of its holder are genuine. This is often an important element that is being considered when deciding whether to lift visa requirements.

Michael Georg Link, Director of OSCE Office for Democratic Institutions and Human Rights (ODIHR)
A road map to Schengen
ODIHR has been instrumental in advising the Ukrainian authorities in the country's efforts to reform identity management processes in issuance of travel and identification documents, as part of the agreement between Ukraine and the European Commission.
ODIHR's work in this field is in line with the assignment that the OSCE received at the 2005 Ministerial Council in Ljubljana where participating States agreed to enhance the security of travel documents and encourage circumstances that would allow liberalization of visa regimes. ODIHR, upon request, provides technical assistance and expert advice on exit and entry procedures, including the simplification of visa procedures as appropriate, and on enhancing the security of travel documents.
The Office has been working closely with the State Migration Service within Ukraine's Interior Ministry since July 2015, and between September and November 2015 two ODIHR experts assessed the existing procedures for identity management and proposed amendments. This work set up a road map to align the issuance of identity and travel documents in Ukraine with the standards set by the International Civil Aviation Organization (ICAO) and put forward by the European Union as one of the requirements for visa liberalization.
At the end of its work, ODIHR assisted with the development of a detailed description of internal processes for collecting, processing and retaining personal data in the state-wide population register. The Office also helped to define new procedures to verify the identity of persons applying for biometric passports or identity documents.
Building on ODIHR's work, Ukrainian authorities proposed for adoption a legal framework introducing secure procedures for issuing biometric passports and identity documents with the highest security standards, which also ensures adequate protection of personal data. On 18 December 2015, European Commission concluded that the document security benchmark for passports has been achieved.
Freedom of movement enables peoples to get to know each other better, and therefore creates trust between our societies and enhances security across our borders. By drawing on ODIHR's expertise on identity management and population registration, Ukraine developed a secure identity management system as well as the procedures to enable visa-free travel for its citizens to the Schengen Area.

Meri Akopyan Head of the International Department of Ukraine's Ministry of Internal Affairs
Ukrainian citizens will be able to travel visa-free to the Schengen Area provided that the European Commission recommendation is endorsed by the European Parliament and the European Council.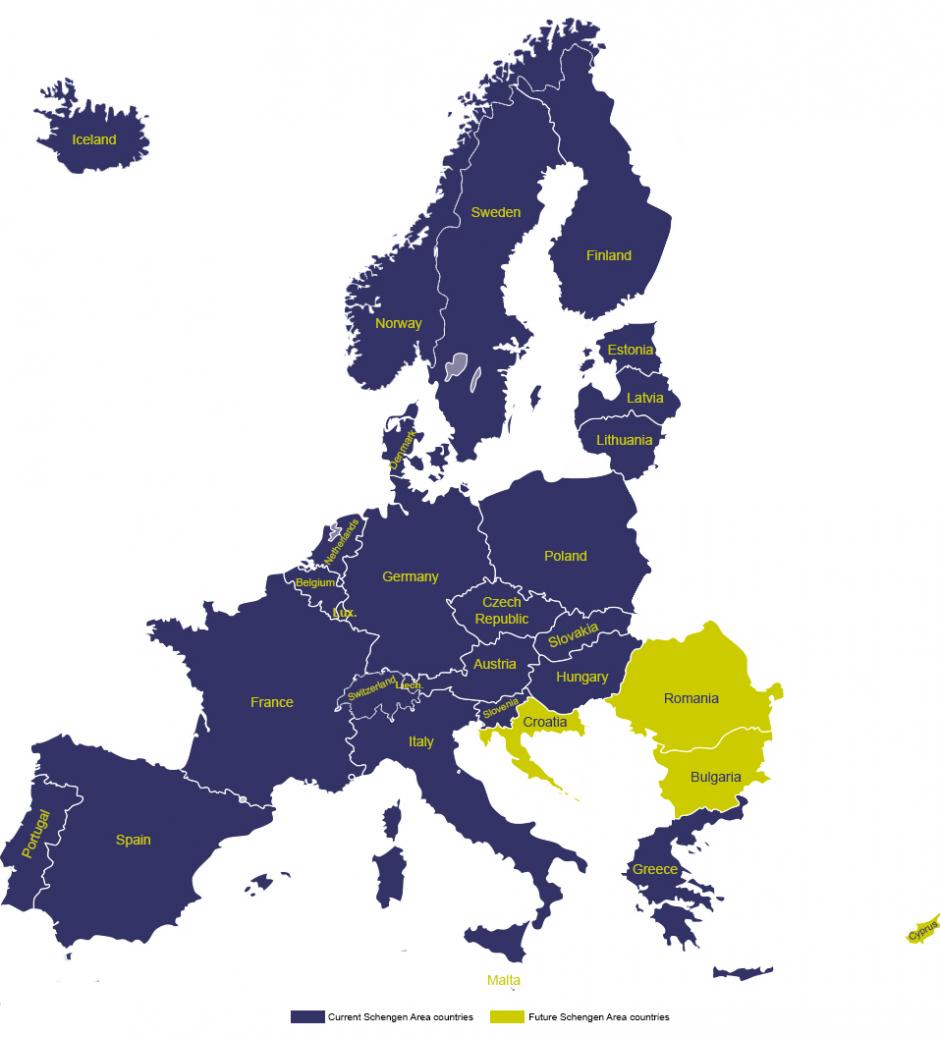 Map showing current and future members of the Schengen Area, where Ukrainian citizens will be able to travel visa-free for touristic and business purposes
ODIHR raises awareness of the OSCE commitments relating to freedom of movement and human contacts among citizens of participating States. ODIHR works with participating States on implementation of visa application procedures that facilitate freer cross-border travel and respect individual rights and freedoms.