Security Community, 4/2014
Expert analysis of top security issues. Insight into what's happening at the OSCE. A forum for exchanging views.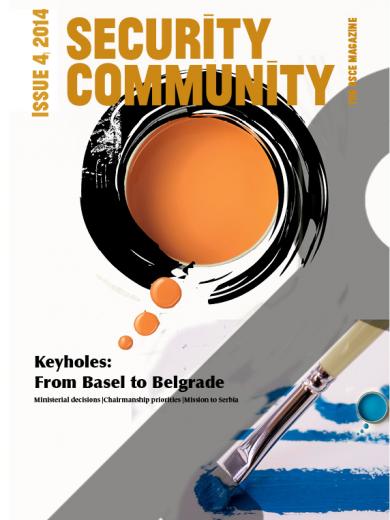 #OSCE
Not Business as Usual:
Ministerial Council in Basel
INTERVIEW
Meet the Chairperson-in-Office
SECURITY COMMUNITY
Waging Peace with Water
ONE QUESTION
The View from Belgrade: Heads of the OSCE Mission
FROM THE FIELD
Stories from the OSCE Mission to Serbia
A Happy Alliance
The Palić Process: For a Brighter Future
Roma Inclusion
Walk and Talk
FOCUS
Measuring peace?
OPEN FORUM
For a Plurilogue in Ukraine
PERCOLATIONS
Welcome to Security Community
Security Community is the OSCE's online space for expert analysis and personal perspectives on security issues.
The views expressed in the articles are those of the authors and do not necessarily reflect the official position of the OSCE and its participating States.