Security Community, 4/2013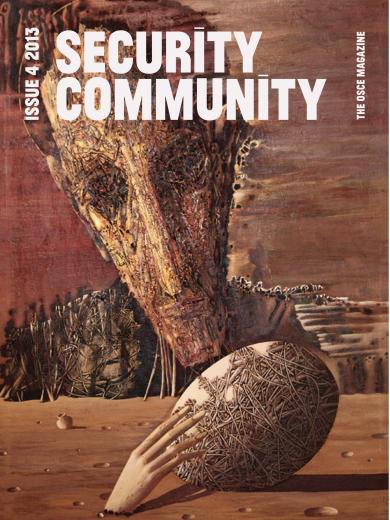 MILESTONES
Mélange leaves Ukraine
OPEN FORUM
Energy, security and the environment
VOICES
Ambassador Silapberdi Nurberdiev, Turkmenistan
#OSCE
INTERVIEW
Janez Lenarcic on democratic elections
FOCUS
Afghanistan: looking ahead
Expectations
BEST PRACTICE
Keeping the devil out of the details
SECURITY COMMUNITY
Security Day on conflict resolution
The changing phases of conflict prevention
SPECIAL SECTION
Retrieving humanity Can war crimes courts reconcile?
The benefits of cold, hard legal analysis
Adapting to the adversarial system
ARMS CONTROL
The case for tracing
A doubtful Liberator
Hands up in 3D
HUMAN TRAFFICKING
When kidneys become commodities
Project Co-ordinator in Ukraine
INSIDE THE OSCE
The Prague Office
PERCOLATIONS
The OSCE Think Tank Network; Summer Academy in Stadtschlaining
Welcome to Security Community
Security Community is the OSCE's online space for expert analysis and personal perspectives on security issues.
The views expressed in the articles are those of the authors and do not necessarily reflect the official position of the OSCE and its participating States.