Security Community, 2/2013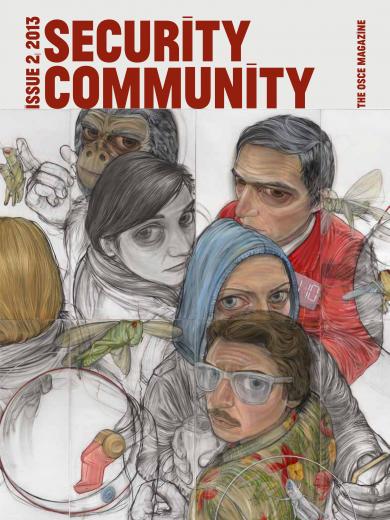 TIME TO CELEBRATE!
Franco-German friendship
# OSCE
Freedom online; Arms control; Afghanistan, Security Days, Environmental footprint
INTERVIEW
Meet Yurdakul Yigitgüden, Co-ordinator of OSCE Economic and Environmental Activities
REPORT
Paring off the hours
SPECIAL SECTION
Historical reconciliation Mending the rifts
Reconciliation: what does it take?
ANALYSIS
Mending the rifts
TRACK II
What does it take?
FROM THE FIELD
Bosnia and Herzegovina: Breaking the vicious circle
Kyrgyzstan: Turning around Suleiman-too
DOSSIER
Migration and exploitation: the Mediterranean connection
When I get angry, I get good ideas: victim compensation
EXCLUSIVE
Max Kampelman in Madrid
YOUR VIEW
PERCOLATIONS
Time for outrage; How to make friendship éclairs; Recent OSCE publications
Welcome to Security Community
Security Community is the OSCE's online space for expert analysis and personal perspectives on security issues.
The views expressed in the articles are those of the authors and do not necessarily reflect the official position of the OSCE and its participating States.