Recommendations on the Effective Participation of National Minorities in Social and Economic Life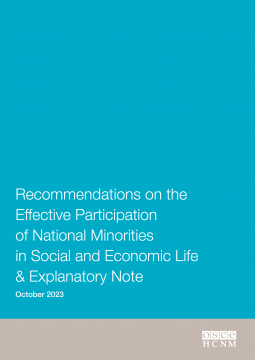 The inclusion of national minorities in economic and social life is a crucial element of democracy, particularly in multi-ethnic societies, as it fosters unity and breaks down societal divisions. The High Commissioner on National Minorities' Recommendations on the Effective Participation of National Minorities in Social and Economic Life offer practical tools to facilitate social and economic participation at different levels and in various settings.
The Recommendations also offer practical guidelines on how policymakers can bridge the gap in the realization of social and economic rights for minority women, youth and the elderly.
OSCE participating States have everything to gain from the greater involvement of national minorities in social and economic life. If minorities remain under-educated, underpaid and under-employed because of discrimination or hindered access, whether intentional or not, the economy of the entire country or region may suffer, with possible adverse consequences for members of the majority and neighbouring countries as well.
When persons belonging to national minorities feel marginalized and trapped in poverty, they may feel resentment of the authorities or of the majority, which in turn can give rise to conflict. That is why the vision embodied in these Recommendations is to work towards a future in which every national minority group can thrive, have influence and be empowered, weaving a tapestry rich in diversity, equity and inclusion.
The Recommendations include chapters on General principles; Policies, processes and institutions; Public goods and services; Digital inclusion; and Geographic and regional dimensions.
The Recommendations especially aim to bring issues related to gender, youth and the elderly into the discussion. They also highlight the emerging challenges posed by the digital divide and environmental justice.
The views, opinions, conclusions and other information expressed in this document are not given nor necessarily endorsed by the Organization for Security and Co-operation in Europe (OSCE) unless the OSCE is explicitly defined as the Author of this document.