Guidelines on the use of Minority Languages in the Broadcast Media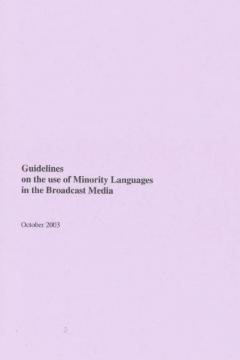 A set of High Commissioner on National Minorities Guidelines on the use of minority languages in the broadcast media.
Some states have taken steps to limit the use of minority languages in the broadcast media, most commonly through quotas for broadcasting time in a certain language (typically that of the majority, and usually designated the official or state language) – a practice that has generated negative reactions among minorities in a number of countries. The purpose of the Guidelines on the Use of Minority Languages in the Broadcast Media is to encourage and facilitate the adoption by states of specific measures to alleviate tensions relating to national minorities and thus to serve the ultimate conflict-prevention goal of the HCNM. The Guidelines are divided into four sub-headings that group the 17 individual guidelines under general principles, policy, regulation, and the promotion of minority languages. The Guidelines are accompanied by a set of explanatory notes.
They are available to download in PDF format or you can order a print copy using the link below. For different language versions, please click the relevant link at the top of the page. Please note that the following versions are only available in PDF format and cannot be ordered in print: Albanian, Armenian, Azeri, Croatian, French, Georgian, Hungarian, Kyrgyz, Macedonian, Romanian, Romany, Serbian and Turkmen.
The views, opinions, conclusions and other information expressed in this document are not given nor necessarily endorsed by the Organization for Security and Co-operation in Europe (OSCE) unless the OSCE is explicitly defined as the Author of this document.