Trafficking in Human Beings Amounting to Torture and other Forms of Ill-treatment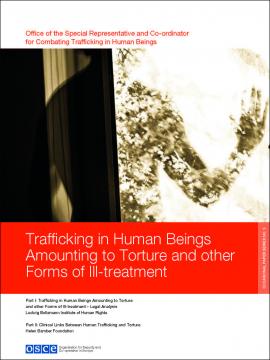 This Fifth Occasional Paper in the Occasional Paper Series of the OSR/CTHB addresses and denounces the use of torture and other forms of ill-treatment by traffickers as a means to subjugate, control and punish trafficked people. It analyses under which circumstances trafficking can amount to torture or other forms of ill-treatment and it identifies the connection between both human rights violations from a clinical perspective. Importantly, the Paper provides the conceptual framework to understand what trafficking cases entail in terms of the physical and psychological effects on trafficked persons, and the legal and clinical implications that flow from this characterization, including in terms of legal entitlements. The Paper builds on the important work of the former UN Special Rapporteur on torture and other cruel, inhuman or degrading treatment or punishment, Professor Dr. Manfred Nowak and the strong and long-standing clinical and policy experience of the British NGO, the Helen Bamber Foundation. Part 1 of the Paper authored by the Ludwig Boltzmann Institute of Human Rights outlines and compares the existing legal frameworks on human rights, human trafficking as well as on torture and other forms of ill-treatment. Part 2 of the Paper examines the clinical links between human trafficking and torture, both in terms of the nature (physical and psychological) of the injuries from torture and ill-treatment, the impact of trafficking on victims and what this implies for effective assistance and sustained recovery This Occasional Paper is meant to provide a policy tool for decision makers and practitioners especially from the legal and medical sector dealing with human trafficking. Based on desk research, field work and case study analysis, it is also an excellent tool to inform the daily work of law enforcement, the judiciary, civil society, academia, the medical profession and the international community in their fight against human trafficking which should be firmly based on the rule of law and human rights.
The views, opinions, conclusions and other information expressed in this document are not given nor necessarily endorsed by the Organization for Security and Co-operation in Europe (OSCE) unless the OSCE is explicitly defined as the Author of this document.