Effectively responding to violent extremism online
While the 21st century has brought us many new ways of communicating, there have been examples all over the world of spreading destructive messages through those peaceful means. Recognizing this problem, the OSCE Mission to BiH and the Security Ministry of BiH co-organized a series of courses on the use of the Internet and social media in developing counter narratives to online content promoting violent extremism.
The courses also contributed to the OSCE's wider campaign "United in Countering Violent Extremism" (#UnitedCVE), which highlights the Organization's comprehensive approach to preventing violent extremism and radicalization that lead to terrorism.
OSCE #UnitedCVE Campaign

These courses contributed to the wider campaign "OSCE United in Countering Violent Extremism" (#UnitedCVE), which underscores that the OSCE family stands together as one in countering violent extremism and radicalization that lead to terrorism. The #UnitedCVE campaign rallies everyone, in particular young people, to reinforce the global consensus against violent extremism – online and offline.

Learn how to support the campaign
Promoting alternative narratives
Social media can be a powerful tool for spreading hate, intolerance and inciting violence. Young people are likely to be exposed to such content online and they need to learn how they can respond. This can include creating and disseminating counter-narratives or positive alternatives, a process called counter-messaging, or reporting violent and hateful content directly to the authorities and hosting platforms so it gets removed.
"It is necessary to do everything we can to have such content removed from the Internet and to promote alternative messages that affirm positive and creative development," says Dzenan Buzadzic, social media strategist and the course trainer. "It is important to report such content on time and prevent it from reaching teenagers as it can adversely impact their values and beliefs," says Buzadzic.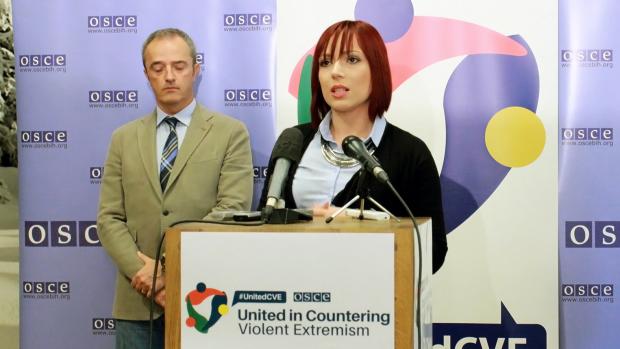 "The response to one bad post should be three positive posts," says Mirela Geko of the Coalition Against Hate 'Ignore Differences' and member of the Youth Council of Federation of BiH. "Social media channels can and should be used as tools to counter violent extremism and promote positive ideas."
Think critically, act locally
All Internet end-users should come together to identify and report websites and social media posts that spread hate or violence. There are options provided by Facebook, Twitter, YouTube, WordPress, etc. to report 'inappropriate' content that contravene their terms of use. What is important is to understand that all these mechanisms are there for everyone to activate.
Danka Zelic of the Association of Women from Grahovo says she would just shake her head when coming across offensive materials and content inciting to violence, but now this has changed. "The course provided me with an array of easy-to-use tools thanks to which I can make a difference with just a few clicks," says Zelic.
The fact is that young people are picking up new skills much faster than their parents. "What we as educators can do is work to increase their critical thinking and teach them that information should never be taken from just one source," says Ljubica Bajo, Coordinator of Extracurricular Activities at the United World College in Mostar. "Our attitude must change if we want to see them applying knowledge in practice."
Co-ordinated efforts make a difference
Through the OSCE's project on Supporting Dialogue on Prevention of Violent Extremism in BiH, the Mission works, through already established social media teams and workshops, towards empowering the young and elderly alike to develop critical thinking and challenge violent and intolerant narratives with positive views, facts and humor.
"We have to become more media literate and allow young people to question the content they encounter online," says OSCE Project Officer Selma Zekovic. "With necessary 'know-how' to challenge violent extremist narratives and right information we are able to prevent someone from getting radicalized to violence and becoming a terrorist."
Together with the BiH Security Ministry the Mission called on the media, civil society and law enforcement officials to further develop adequate preventive measures to counter violent extremism on the Internet. The OSCE supported the establishment of social media teams and engaged its networks of civil society partners under the Super Citizens programme to undercut violent extremist narratives by promoting values that really matter.
"These stakeholders must offer a new way of thinking that will deter individuals from engaging in potentially dangerous activities, and the media can be at the forefront for spreading positive messages," argues Sladjana Brajevic of the Radio Magic from Milici.
"We should work on creating media campaigns in co-operation with schools and other members of the local community. There is enough space for every individual to take part. Together, we can definitely change the situation," concludes Brajevic.