Antisemitizm ile Eğitim Yoluyla Mücadele: Politika Belirleyiciler için Kılavuz İlkeler [broşür]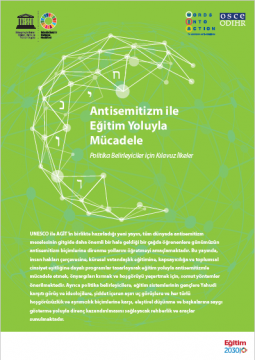 UNESCO ile AGIT'in birlikte hazırladıgı yeni yayın, tüm dünyada antisemitizm meselesinin gitgide daha önemli bir hale geldigi bir çagda ögrenenlere günümüzün antisemitizm biçimlerine direnme yollarını ögretmeyi amaçlamaktadır. Bu yayında, insan hakları çerçevesine, küresel vatandalık egitimine, kapsayıcılıga ve toplumsal cinsiyet eitligine dayalı programlar tasarlayarak egitim yoluyla antisemitizmle mücadele etmek, önyargıları kırmak ve hogörüyü yeertmek için, somut yöntemler önerilmektedir. Ayrıca politika belirleyicilere, egitim sistemlerinin gençlere Yahudi karıtı görü ve ideolojilere, iddet içeren aırı uç görülere ve her türlü hogörüsüzlük ve ayrımcılık biçimlerine karı, eletirel düünme ve bakalarına saygı gösterme yoluyla direnç kazandırılmasını saglayacak rehberlik ve araçlar sunulmaktadır.
The views, opinions, conclusions and other information expressed in this document are not given nor necessarily endorsed by the Organization for Security and Co-operation in Europe (OSCE) unless the OSCE is explicitly defined as the Author of this document.