Oktatással az antiszemitizmus ellen: Útmutató szakpolitikai döntéshozóknak [Brochure]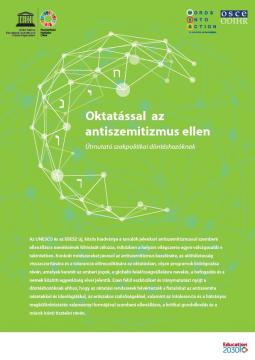 OrganizationAz UNESCO és az EBESZ új, közös kiadványa a tanulók jelenkori antiszemitizmussal szembeni ellenállásra nevelésének kihívását célozza, miközben a helyzet világszerte egyre válságosabb e tekintetben. Konkrét módszereket javasol az antiszemitizmus kezelésére, az eloítéletesség visszaszorítására és a tolerancia elomozdítására az oktatásban, olyan programok kidolgozása révén, amelyek keretét az emberi jogok, a globális felelosségvállalásra nevelés, a befogadás és a nemek közötti egyenloség elvei jelentik. Ezen felül eszközöket és iránymutatást nyújt a döntéshozóknak ahhoz, hogy az oktatási rendszerek felvértezzék a fatalokat az antiszemita nézetekkel és ideológiákkal, az eroszakos szélsoségekkel, valamint az intolerancia és a hátrányos megkülönböztetés valamennyi formájával szembeni ellenállásra, a kritikai gondolkodás és a mások iránti tisztelet révén.
The views, opinions, conclusions and other information expressed in this document are not given nor necessarily endorsed by the Organization for Security and Co-operation in Europe (OSCE) unless the OSCE is explicitly defined as the Author of this document.