Yahudi Karşıtı Nefret Suçları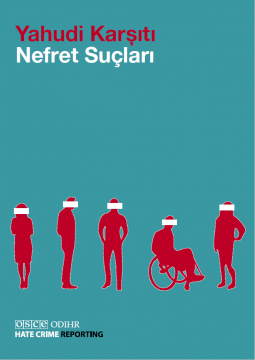 Yahudileri bin yıldır etkilemekte olan antisemitizmen acımasız yüzünü Nazilerin Yahudilereuyguladığı ve milyonlarca Yahudinin öldürülmesiile sonuçlanan soykırım (Holokost)esnasında göstermiştir. Bu korkunç olaydançıkartılan derslere rağmen, antisemitizmgünümüzde halen, komplo teorilerinden tutunda şiddet içeren saldırı olaylarına kadar uzananşekillerde Yahudilere rahatsızlık vermeyisürdürmektedir. Çoğu zaman bu hoşgörüsüzlükYahudilere yönelik nefret suçlarınadönüşmektedir. Bu suçlar Yahudilerin ibadettörenlerine katılmaktan, dinî kıyafetler giymektenveya semboller takmaktan korkmasına yada kültürel olarak veya dinî kimlik açısındantoplum içerisinde Yahudi olarak tanınmaktançekinmesine sebep olabilmektedir. Antisemitizmsadece Yahudileri değil, bir bütün olaraktoplumu etkilemektedir. Yahudi karşıtı düşüncelerinvarlığı kendinden başka topluluklarakarşı daha geniş anlamda hoşgörüsüzlüğüngöstergesi olduğu içindir ki, antisemitizmle veher türlü hoşgörüsüzlük biçimiyle mücadelekonusunda herkesin üzerine düşen bir görevbulunmaktadır.
The views, opinions, conclusions and other information expressed in this document are not given nor necessarily endorsed by the Organization for Security and Co-operation in Europe (OSCE) unless the OSCE is explicitly defined as the Author of this document.