Knjiga referenci za organizacije civilnog društva u estvovanje u zakonodavnim, nadzornim i bud etskim procesima u skupštini Kosova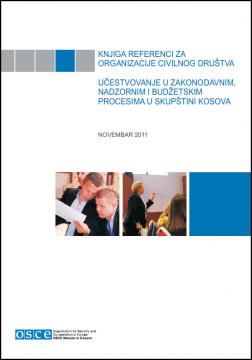 The Reference Book for Civil Society Organizations is a resource tool for organizations with a public policy agenda that seek to influence the political decision-making processes in Kosovo. It provides advice for partaking in the legislative, budgetary and oversight activities of the Assembly of Kosovo.
Stanovišta, mišljenja, zaključci i druge informacije sadržane u ovom dokumentu ne odražavaju nužno i stav Organizacije za evropsku bezbednost i saradnju (OEBS), osim ako OEBS nije izričito naveden kao autor ovog dokumenta.