Analiza podataka o nabavkama u pogledu rizika od trgovine ljudima Pilot projekat za Misiju OEBS-a u Srbiji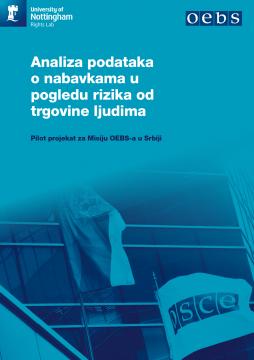 U ovom izveštaju predstavljena je preliminarna procena portfolija dobavljača Misije OEBS-a u Srbiji iznesene su preporuke za upravljanje rizicima od trgovine ljudima u lancima snabdevanja. OEBS je angažovao Istraživački centar za borbu protiv savremenog ropstva Univerziteta u Notingemu (Rights Lab, University of Nottingham) da sprovede nezavisnu analizu rizika od trgovine ljudima koji možda postoje kod dobavljača prvog reda sa kojima sarađuje Misija OEBS-a u Srbiji. To je prvi put da je izvršena jedna takva procena portfolija dobavljača neke međuvladine organizacije i predstavljaće jedinstvenu prekretnicu u oblasti nabavki u međuvladinim organizacijama. Izveštaj je urađen s jasnim ciljem da posluži kao osnova za buduće diskusije, analize i delovanje u vezi s praksama u oblasti nabavki i načinima na koje se mogu suzbijati rizici od trgovine ljudima.
Stanovišta, mišljenja, zaključci i druge informacije sadržane u ovom dokumentu ne odražavaju nužno i stav Organizacije za evropsku bezbednost i saradnju (OEBS), osim ako OEBS nije izričito naveden kao autor ovog dokumenta.