News and press releases from the OSCE's global activities.
Publishing date:
15 September 2017
Content type:
Press release
BELGRADE, 15 September 2017 – On the occasion of the tenth anniversary of the International Day of Democracy, the OSCE Mission to Serbia, in partnership with the CSO Centre for Research, Transparency and Accountability (CRTA) and the National Assembly of the Republic of Serbia organized a forum on democracy and citizens' participation held today at the Parliament in Belgrade...
Publishing date:
29 August 2017
To improve the efficiency of the local administration and its services to Serbian citizens, some 1180 employees of 136 local self-government units from across Serbia completed an OSCE Mission-supported online course on the implementation of the new Law on General Administrative Procedure. The ceremony of awarding certificates took place on 29 August 2017 in Belgrade...
Publishing date:
7 July 2017
Some 60 judicial professionals gathered at an international conference in Belgrade on 7 July 2017 to discuss the experiences of national and international professional associations of judges in safeguarding the independence of the judiciary...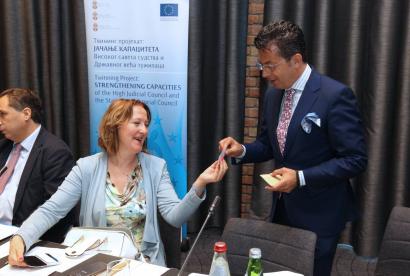 Publishing date:
5 July 2017
The OSCE Mission to Serbia in partnership with the European Union twinning project "Strengthening Capacities of the High Judicial Council and the State Prosecutorial Council" organized a conference on the relationship between the judiciary and other branches of government in Serbia, on 5 July 2017 in Belgrade...
Publishing date:
29 June 2017
The first of five workshops on Open Government Partnership (OGP) at the local level was held on 28 June 2017 in Vranje for representatives of local municipalities from Pcinja and Jablanica....
Publishing date:
29 June 2017
The first assessment of the newly established notary system in Serbia was presented to more than 100 representatives of state institutions, courts, notarial profession, international community and academia in Belgrade on 29 June 2017 by the Chamber of Notaries with the support of the OSCE Mission to Serbia....
Publishing date:
16 June 2017
Some 40 court presidents, prosecutors, judges, deputy prosecutors and representatives of the Ministry of Interior`s Service for Combating Organized Crime discussed the impact of recently introduced amendments to the Law on Seizure of the Proceeds from Crime during the joint OSCE Mission to Serbia/Prosecutor's Office for Organized Crime (POOC) roundtable discussion in Belgrade on 16 June 2017...