News and press releases from the OSCE's global activities.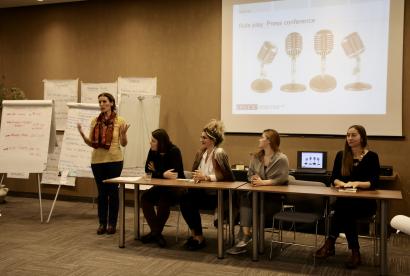 Publishing date:
18 November 2019
Fifteen representatives of civil society and OSCE field operations from across South-Eastern Europe participated in a regional train-the-trainer seminar for future facilitators of courses tailored for women leaders on preventing violent extremism and radicalization that lead to terrorism. The seminar, held in Belgrade from 11 to 16 November 2019, was organized by the Action against Terrorism Unit of the OSCE Transnational Threats Department...
Publishing date:
18 October 2019
A three-day training of trainers' course on enhancing oversight of the security sector jointly organized by ODIHR and the OSCE Secretariat concluded on 18 October 2019 in Yerevan. The capacity building event was designed to increase the human rights investigation skills of staff members of Armenia's ombuds institution and help them train security sector personnel on human rights compliance.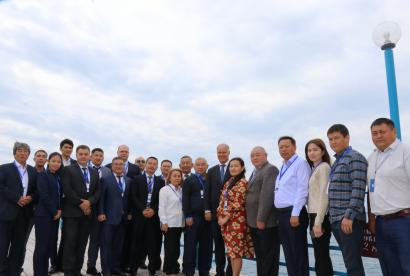 Publishing date:
10 September 2019
A two-day roundtable discussion on the 2017-2019 National Action Plan (NAP) on the implementation of UN Security Council Resolution (UNSCR) 1540 on effective measures against the proliferation of weapons of mass destruction is taking place from 9 to 11 September 2019 in the Issyk-Kul province, Kyrgyzstan...
Publishing date:
9 September 2019
Content type:
Press release
BRATISLAVA, 9 September 2019 – Some 160 representatives, policy makers and national security advisers from OSCE participating States and Partners for Co-operation, as well as experts and practitioners from international and regional organizations and academia, attended today in Bratislava the fourth thematic conference of the 2019 Slovak OSCE Chair, which focused on Security Sector Governance and Reform (SSG/R). In particular, the conference sought to unpack the role of SSG/R in preventing conflict, sustaining peace and promoting comprehensive security for all.
Publishing date:
4 September 2019
Content type:
Press release
BRATISLAVA, 4 September 2019 –A three-day advanced training course exploring the connection between security sector governance and reform (SSG/R) and border security management, hosted by the Slovak OSCE Chairmanship, concluded today.
Publishing date:
29 July 2019
A two-day training course on the fight against smuggling and illegal trade in art and cultural property concluded on 26 July 2019 in Tuzla, Bosnia and Herzegovina (BiH). The event was organized jointly by the OSCE Mission to BiH, the Centre for the Fight against Trafficking in Art and the Agency for Education and Professional Training of the BiH Ministry of Security...
Publishing date:
4 June 2019
Content type:
Press release
BELGRADE, 4 June 2019 – Visiting Serbia today as part of his commitment to visit all OSCE field missions, the OSCE Chairperson-in-Office Slovak Foreign and European Affairs Minister Miroslav Lajčák, together with First Deputy Prime Minister and Minister of Foreign Affairs of Serbia Ivica Dačić and the Head of the OSCE Mission to Serbia, Andrea Orizio, opened the High-Level Discussion on Security Sector Governance and Reform (SSG/R) in South-Eastern Europe in Belgrade...