News and press releases from the OSCE's global activities.
Publishing date:
24 October 2017
Content type:
Press release
ROME, 24 October 2017 – Co-operation in migration management is the focus of the annual OSCE Mediterranean Conference taking place on 24 and 25 October in Palermo, Italy...
Publishing date:
23 October 2017
An OSCE-organized workshop on National Money Laundering and Terrorist Financing Risk Assessment (NRA) started today in Tashkent.
Publishing date:
20 October 2017
Content type:
Press release
RABAT, 20 October 2017 – A delegation from the OSCE Parliamentary Assembly is concluding a two-day visit to Morocco today, having met with religious leaders, participated in a seminar on countering violent extremism in the OSCE region, and held a series of meetings with parliamentary and government leaders in the Moroccan capital...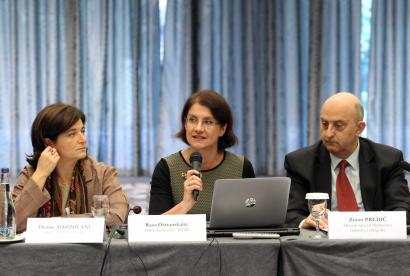 Publishing date:
20 October 2017
Strengthening protection and preparedness against terrorist attacks aimed at critical energy infrastructure was the focus of a risk-assessment and crisis management exercise in Belgrade on 19 and 20 October 2017, organized by the OSCE Transnational Threats Department with the support of the OSCE Mission to Serbia...
Publishing date:
9 October 2017
A seven-day training course aimed at strengthening the capacity of government officials from Kyrgyzstan to conduct investigations in the field of countering terrorist financing was organized by the OSCE's Transnational Threats Department and the UN Office on Drugs and Crime (UNODC)'s Global Programme against Money Laundering, with the support of the OSCE Programme Office in Bishkek, from 2 to 8 October 2017 in Issyk-Kul, Kyrgyzstan...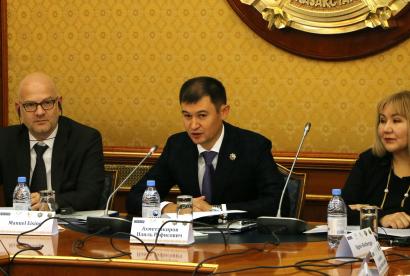 Publishing date:
5 October 2017
A two-day seminar on strengthening rule of law-compliant criminal justice responses to terrorism, which brought together over 30 practitioners from the judiciary, law enforcement agencies and prison management, concluded on 5 October 2017 in Astana.
Publishing date:
2 October 2017
Content type:
Press release