News and press releases from the OSCE's global activities.
Publishing date:
11 June 2019
An OSCE-supported seminar on best practices in anti-money laundering (AML) and countering the financing of terrorism (CFT) in the sector of designated non-financial businesses and professions (DNFBP) took place in Ashgabat from 10 to 11 June 2019. The event was organized by the OSCE Centre in Ashgabat, jointly with the Ministry of Finance and Economy of Turkmenistan and its Financial Monitoring Service.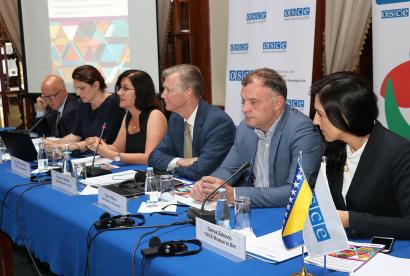 Publishing date:
10 June 2019
Content type:
Press release
SARAJEVO, 10 June 2019 – The Organization for Security and Co-operation in Europe (OSCE) presented today in Sarajevo its publication on referral mechanisms for preventing and countering violent extremism and radicalization that lead to terrorism (P/CVERLT)...
Publishing date:
20 May 2019
A two-day high-level conference on "International and Regional Co-operation on Countering Terrorism and Its Financing through Illicit Drug Trafficking and Organized Crime" concluded in Dushanbe on 17 May 2019. The Government of Tajikistan organized the event in close co-operation with the OSCE, the United Nations, and the European Union...
Publishing date:
17 May 2019
A three-day training course aimed at further strengthening the capacity of Albania to counter terrorist financing was organized from 15 to 17 May 2019, in Tirana. Twenty-two participants (including five females) from the General Directorate for the Prevention of Money Laundering (GDPML) (Albanian Financial Intelligence Unit), the State Intelligence Service (SHISH), the Albanian State Police, the Ministry of Justice and the Prosecution Office for Serious Crimes completed the course.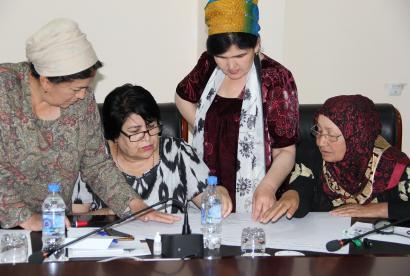 Publishing date:
8 May 2019
A three-day capacity-building course on preventing and countering violent extremism and radicalization leading to terrorism (VERLT) took place in the town of Guliston from 2 to 4 May 2019. The training course served as the final phase of equipping public council members with relevant knowledge and skills to address and integrate aspects of preventing and countering VERLT into community policing efforts.
Publishing date:
19 April 2019
A capacity-building training course for staff of the Probation body and Settlement colonies was organized in Osh, Kyrgyzstan by the OSCE Programme Office in Bishkek from 15 to 19 April 2019 on how to support the rehabilitation of persons convicted of crimes related to violent extremism and terrorism...
Publishing date:
18 April 2019
Content type:
Press release
ST. PETERSBURG, Russian Federation, 18 April 2019 – The evolving nature of the threat posed by terrorists and violent extremists requires enhancing co-operation at all levels, including between parliamentarians, said Chair of the OSCE PA's Ad Hoc Committee on Countering Terrorism (CCT) Makis Voridis (Greece) at today's opening plenary session of the International Conference on Counter-Terrorism in St. Petersburg...