News and press releases from the OSCE's global activities.
Publishing date:
20 December 2018
A two-day train-the-trainer course aimed at strengthening the capacity of Albania to disrupt the financing of terrorist networks was held on 18 and 19 December 2018 in Vienna...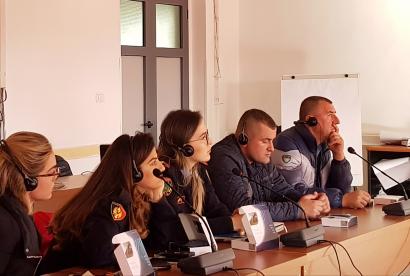 Publishing date:
14 December 2018
A one-week advanced training course for 15 Albanian border officers from various regions of the country on increasing their operational awareness regarding the detection of forged travel documents was conducted in Tirana from 10 to 14 December 2018. The training was organized by the Border Security and Management Unit of the OSCE Transnational Threats Department in co-operation with the OSCE Presence in Albania and the Security Academy of Albania.
Publishing date:
23 October 2018
A delegation of members of Albania's Parliamentary Committee on Productive Activities, Trade and Environment, consisting of representatives of both the ruling majority and opposition parties, participated in a study visit to Lake Constance from 19 to 23 October 2018 to learn about cross-border co-operation with regards to managing the lake. The visit was organized by the OSCE Presence in Albania as part of a custom-tailored programme highlighting multilateral co-operation between parliaments and parliamentary oversight mechanisms...
Publishing date:
18 October 2018
Civil society has a critical role to play in preventing violent extremism and radicalization that lead to terrorism (VERLT) and more can be done to strengthen partnerships between government and civil society in order to address this security challenge, said speakers at a two-day regional meeting in Tirana on 17 and 18 October 2018. A new OSCE guidebook that focuses on the role of civil society in addressing VERLT in the context of South-East Europe was also launched at the event...
Publishing date:
18 October 2018
Content type:
Press release
VIENNA, 18 October 2018 – The OSCE Representative on Freedom of the Media, Harlem Désir, today expressed concern about the announcement of a new registration system for 44 websites in Albania and their potential closure...
Publishing date:
7 September 2018
The OSCE Presence in Albania, in co-operation with the Konrad-Adenauer-Stiftung Office in Albania, launched a call on 7 September 2018 for researchers to undertake research projects on transitional justice in Albania.
Publishing date:
11 July 2018
From 4 June to 11 July 2018, the OSCE Presence in Albania, together with the Albanian School of Public Administration, trained 200 public officials on issues of good governance, integrity and anti-corruption. The public officials of mid- and lower management level came from 20 municipalities from the regions of Tirana, Durrës, Elbasan, Gjirokastra and Dibra, with half of them coming from the Tirana Municipality alone...