News and press releases from the OSCE's global activities.
Publishing date:
29 March 2021
A series of training courses for Kazakhstan's law enforcement officials on The role of law enforcement agencies in responding to potential violations of electoral legislation during the April 11, 2021, elections for local councils concluded across Kyrgyzstan on 24 March 2021...
Publishing date:
21 August 2020
More than 100 representatives of the Bishkek city's law enforcement agencies took part in the OSCE-supported three-week online training course on 17 August 2020 in Bishkek. The course focused on how to prepare and ensure safety and lawfulness during the upcoming 4 October parliamentary elections in Kyrgyzstan...
Publishing date:
18 June 2018
Representatives of the Presidential Administration of Kyrgyzstan, the Central Commission for Elections and Referenda (CEC), the OSCE Programme Office in Bishkek, the UN Development Programme (UNDP) and the Swiss Embassy to Kyrgyzstan participated in the opening ceremony of the Capacity Development Centre for the State Registration Services under the Government (SRS) in Bishkek on 14 June 2018.
Publishing date:
17 May 2018
On 11 May 2018, a public dialogue was organized by the Central Commission for Elections and Referenda of the Kyrgyz Republic (CEC) and the public foundation Civic Platform, with the support of the OSCE Programme Office in Bishkek, to discuss ways to improve the electoral legislation and to identify the main strategic directions of electoral reform.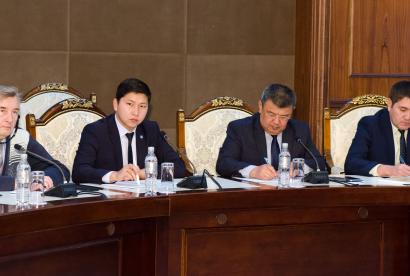 Publishing date:
4 December 2017
The Programme Office in Bishkek supported the Central Election Commission of Kyrgyzstan in organizing a debate on 28 November 2017 on the lessons learnt from the October 2017 presidential elections and on issues to further consolidate the country's electoral system.
Publishing date:
30 August 2017
From 14 August to 28 August 2017 the Programme Office in Bishkek supported a series of training sessions on voter identification procedures and other election-related matters. Twenty-five master trainers, 186 trainers as well as 500 operators and maintenance specialists from all regions of Kyrgyzstan were trained in the effective operation of the voter identification system during the upcoming October presidential elections in Kyrgyzstan. Subsequently, the trained operators and maintenance specialists will instruct over 9,500 operators, who will be engaged in voter identification on Election Day...
Publishing date:
5 November 2016
Content type:
Press release
OSH, Kyrgyzstan, 5 November 2016 – A forum of women candidates for local council elections was organized today in Osh city with the aim of encouraging some 125 graduates of Women's Leadership Schools from the Bishkek, Issyk-Kul, Osh and Batken regions to participate in the 11 December local council elections...