Program zwalczania przestępstw na tle nienawiści dla funkcjonariuszy organów ochrony porządku publicznego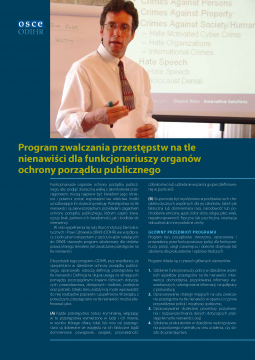 Polish translation of a factsheet on the Law Enforcement Officer Programme on Combating Hate Crime
Funkcjonariusze organów ochrony porządku publicznego, aby podjąć skuteczną walkę z jakimkolwiek przestępstwem,
muszą najpierw być świadomi jego istnienia i powinni zostać wyposażeni we właściwe środki umożliwiające im skuteczną reakcję. Przestępstwa na tle nienawiści są pierwszorzędnym przykładem zagadnień ochrony porządku publicznego, którym często towarzyszy brak, zarówno ich świadomości, jak i środków do interwencji.

W celu wypełnienia tej luki, Biuro Instytucji Demokratycznych i Praw Człowieka OBWE (ODIHR) we współpracy z policyjnymi ekspertami z sześciu krajów należących do OBWE stworzyło program szkoleniowy dla stróżów prawa, którego tematem jest zwalczanie przestępstw na tle nienawiści.

The views, opinions, conclusions and other information expressed in this document are not given nor necessarily endorsed by the Organization for Security and Co-operation in Europe (OSCE) unless the OSCE is explicitly defined as the Author of this document.