Ногиронлиги бўлган шахслар сиёсий жараёнларда иштирок этишига кўмаклашиш бўйича кўрсатмалар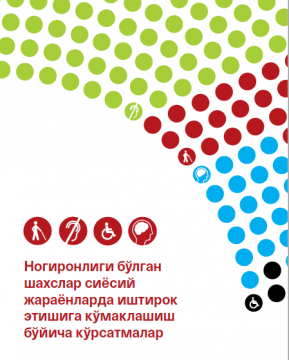 The Guidelines are also available in an easy-to-read format, which helps people with intellectual disabilities to access this information.
Disability Inclusion Checklists for Political Parties and Parliaments are also annexed in the Guidlines.
Қарашлар, фикрлар, хулосалар, ва ушбу ҳужжатда ифодаланган бошқа маълумотлар Европада Хавфсизлик ва Ҳамкорлик Ташкилотининг (ЕХҲТ) нуқтаи назари ифодаси дегани эмас. Ҳужжатда ЕХҲТ муаллифи эканлигини таъкидланган ҳоллатлар бундан мустасно.