Одам савдоси жабрдийдаларини келиб чиқиш мамлакатига қайтариш жараёнида инсон ҳуқуқларига амал қилиш бўйича Дастуриламал тамойиллар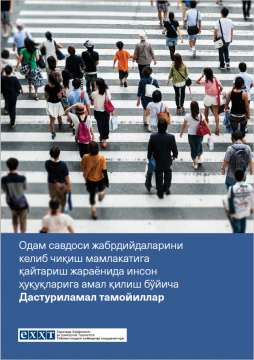 Мазкур қўлланма илк маротаба 2014 йилда "Guiding Principles on Human Rights in the Return of Trafficked Persons" сифатида ЕХҲТнинг Демократик институтлар ва инсон ҳуқуқлари бўйича бюроси томонидан чоп этилган. Мазкур ўзбек тилидаги нусха ЕХҲТнинг Ўзбекистондаги лойиҳалар координатори томонидан таржима қилинган, тайёрланган ва чоп этилган. Матнда тафовутлар пайдо бўлган ҳолларда инглиз тилидаги нашр охирги ва расмий нусха сифатида кўрилсин.
Қарашлар, фикрлар, хулосалар, ва ушбу ҳужжатда ифодаланган бошқа маълумотлар Европада Хавфсизлик ва Ҳамкорлик Ташкилотининг (ЕХҲТ) нуқтаи назари ифодаси дегани эмас. Ҳужжатда ЕХҲТ муаллифи эканлигини таъкидланган ҳоллатлар бундан мустасно.