"Güvenlik için Birlik olalım" - Belediye Topluluklar Güvenlik Konseyi için Afişler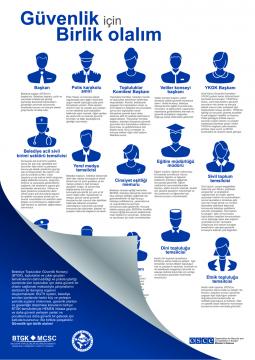 AGİT Kosova Misyonu, 2017-2021 Topluluklar Güvenliği Stratejisi'nin uygulanması konusunda desteğini ve denetimimi sunmakla beraber, Kosova Polisi ve güvenlik forumlarının kapasitelerini artırma konusunda desteğini sunmaktadır. Belediye Topluluklar Güvenlik Konseyleri (BTGK) belediye düzeyinde politikaları belirleyen önemli bir danışma mekanizmasını oluşturmaktadır. İlgili Konsey belediye başkanı tarafından yönetilir ve toplantılara Polis teşkilatı amiri aktif olarak katılır. BTGK iki ayda bir toplantıları düzenleyerek güvenlik konularını görüşürler ve toplantılarda konuyla alakalı topluluklar çıkar gruplarının, kadınların ve sivil toplumun çıkarlarını temsil ederler. Kasım 2016 yılında yayınlanan kamu bilincini artırmak afişleri, yakın gelecekte Kuzey'de de kurulması beklenen konseyler dahil olmak üzere, Kosova çapında tüm BTGK'lerin görev ve sorumluluklarını tanıtmaktadır.
The views, opinions, conclusions and other information expressed in this document are not given nor necessarily endorsed by the Organization for Security and Co-operation in Europe (OSCE) unless the OSCE is explicitly defined as the Author of this document.