Istraživanje OESS-a o o nasilju nad ženama – Izvješće za Bosnu i Herzegovinu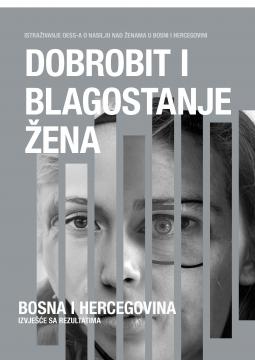 Ovo izvješće predstavlja rezultate studije koju je proveo OESS o dobrobiti i sigurnosti žena u Bosni i Herzegovini. Studija je provedena 2018. godine u odabranim zemljama jugoistočne i istočne Europe. Studija pod vodstvom OESS-a je obuhvatila kvantitativnu i kvalitativnu komponentu i provedena je s ciljem pružanja podataka o različitim oblicima nasilja koje su žene doživjele u djetinjstvu i tijekom njihova života. Istraživanje je obuhvatilo nasilje koje su žene doživjele u konfliktnom i nekonfliktnom okruženju, kao i utjecaj nasilja na žene i djevojčice, uključujući i njegove trajne posljedice. Pitanja o normama i stavovima vezanim za nasilje nad ženama bila su također uključena u istraživanje radi boljeg razumijevanja uzroka nasilja.
The views, opinions, conclusions and other information expressed in this document are not given nor necessarily endorsed by the Organization for Security and Co-operation in Europe (OSCE) unless the OSCE is explicitly defined as the Author of this document.